JRS welcomes Pope Francis's visit to Iraq
22 February 2021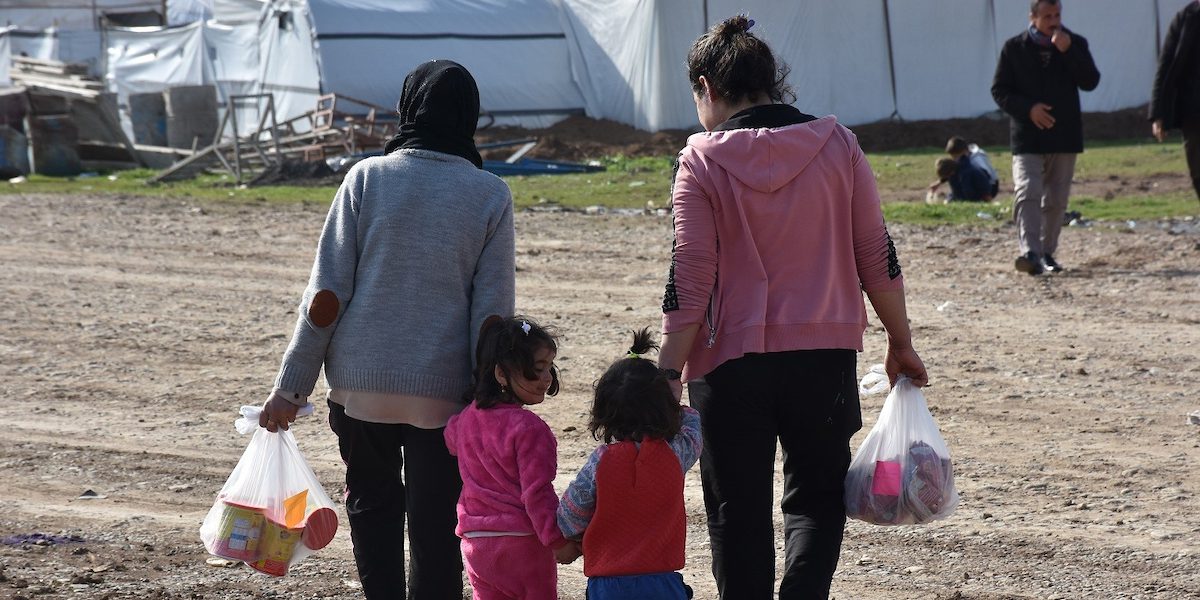 Jesuit Refugee Service (JRS) looks forward to the visit of Pope Francis to Iraq and welcomes his untiring commitment to promote human fraternity.
JRS established a team in Iraq only weeks after the tragic events of summer 2014 in the Sinjar district and the Nineveh Plains. Beginning by accompanying forcibly displaced persons who sought shelter in the Kurdistan Region of Iraq, JRS later branched out into the Ninewa governorate, to stand with returnees seeking to rebuild their lives in their areas of origin.
More than 97% of JRS Iraq staff are Iraqis from diverse ethnic and religious backgrounds, most of whom were formerly or are still displaced. JRS implements programmes directly, focusing on protection, education, and mental health and psychosocial support (MHPSS), in multilayered projects that promote social cohesion. Since 2014, JRS Iraq has consistently sought to uphold and restore the dignity of forcibly displaced persons; show compassion to the most vulnerable among them; and be a sign of hope that a shared future is possible.
JRS has witnessed first hand the immense suffering of those whose lives have been directly impacted by war and conflict in Iraq. Much suffering is hidden in deep psychological wounds that continue to inflict pain in the lives of countless people, including Yazidi genocide survivors and former abductees who have been or continue to be forcibly displaced in Iraq, and others displaced beyond its borders. This pain, along with the lack of hope for a better future, impels many Iraqis to seek emigration as a way out. The number of young people in protracted displacement taking their own lives is a cause for concern. Ordinary people are tired and yearn for a new beginning, true hope, and tangible prospects of living with dignity, in stability and prosperity in their own country. They want Iraq to be a land of peace, not a playground for arms dealers.
Ahead of Pope Francis's visit to Iraq, JRS makes the following recommendations to the international community, informed by our experience in Iraq:
JRS supports and encourages efforts to rebuild a healthy social fabric in which Iraqis of different faiths and ethnicities can re-establish connections damaged by conflict. A necessary part of this is the reconstruction of infrastructure, services, and spaces that will in turn assist some of the displaced to return to areas of origin voluntarily, safely, with dignity, and sustainably.
Given that more than 40% of the population of Iraq are below the age of 15, investments must be prioritised to ensure a qualitative boost to education and job creation.
The re-development of the public healthcare infrastructure should include specialised mental health services, particularly for survivors of atrocities and children.
JRS joins the Yazidi community in advocating for specialised assistance to identify and rescue those who were abducted by the self-proclaimed Islamic State (IS) and are still missing. More than three years after the declaration of victory over IS, in excess of 2,880 Yazidis remain missing, many of whom continue to be enslaved or held in detention.
We encourage the international community to work with Iraq to help address the country's growing environmental stress due to climate change before it is too late. JRS sees opportunities in diversifying the economy, developing sustainable fossil fuel free energy sources, and rehabilitating water resources and the natural environment.
Click here to read the Joint Interreligious Statement of Faith-Based Organizations operating in Iraq on the occasion of the Apostolic Visit of H.H. Pope Francis (March 5-8, 2021)