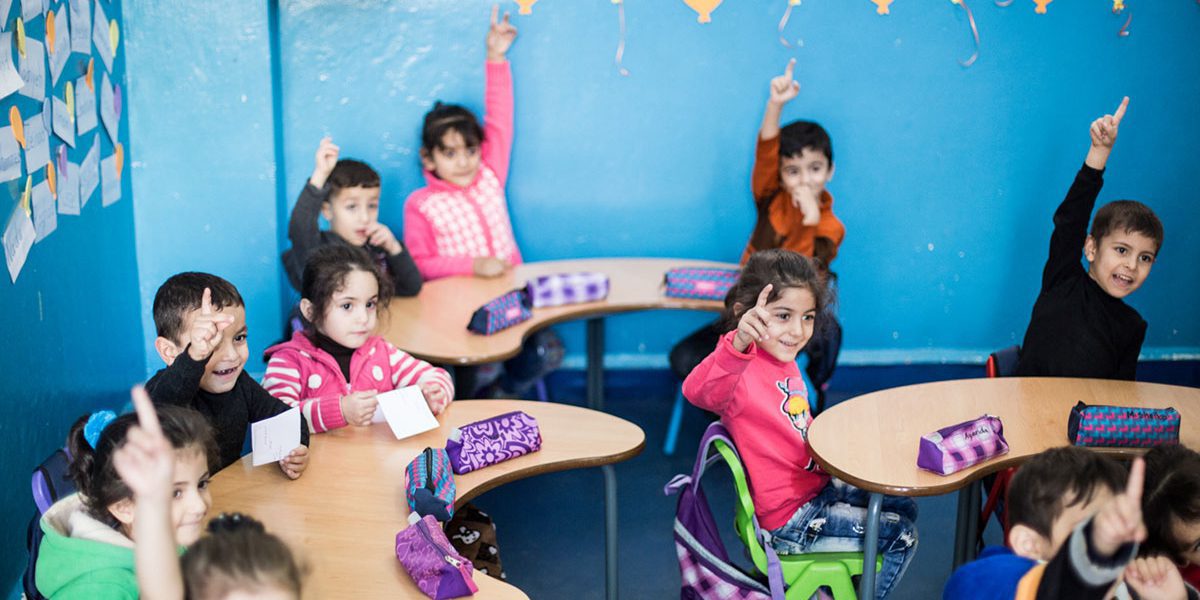 In JRS we believe that education fosters agency and promotes the full development and freedom of displaced people.
JRS is committed to ensuring that children who are forced to flee their homes and communities are not deprived of their right to education and their path to a hopeful and productive future. Education provides stability and a sense of normalcy; it engenders hope while preparing refugees to meet future challenges.
With the skills and knowledge provided by education, refugees find it easier to integrate into new communities. In regions devastated by war and endemic violence, a skilled, educated population is vital for the reconstruction and long-term development of both host countries and countries of origin.
When refugees contribute to economic development, the wealth of the entire community can increase: the new goods and services that are offered create jobs and products valued by all. The creation of new revenue and opportunities for both host and refugee communities contributes to the integration of refugees into a society.
Everyone has the right to education
Every child has the right to education: this is a principle enshrined in the Convention on the Rights of the Child and affirmed most recently by the Sustainable Development Goals, particularly Goal 4 which calls for universal access to quality educational opportunities.
The right to education does not cease to exist when a child is on the move, and it should not vanish even in a place with few resources or systems, such as refugee camps, informal settlements, or temporary living spaces. When children have fled across borders and find themselves in a new country, their right to education is protected by a legal framework, the 1951 Refugee Convention, and affirmed by multilateral commitments, such as the 2016 Comprehensive Refugee Response Framework (CRRF).
Tailoring our education programmes to different needs  
Providing quality, accessible education for displaced children is an immense and multi-faceted challenge. Education systems in the places where people find refuge might be non-existent, weak, or overburdened. There are issues with the lack or inadequacy of physical infrastructure, too few teachers and educational staff, and differences in languages, curricula, and educational systems between countries of origin and host countries. These problems often require specialised offerings such as language classes, reconciliation of curricula, and remedial programmes.
When local governments are unable or unwilling to provide education services, JRS offers programmes at the early childhood, primary, and secondary levels. JRS also works to build the capacity of the educational system by constructing classroom facilities, developing specialised programmes, and supporting teachers and other educational staff.
JRS implements educational services in emergency situations as well as in protracted displacement crises, offering several levels of education programmes and adult literacy courses.  In our project development, JRS always seeks to understand the local context and needs, ensures that we have the technical capacity to deliver quality programming, and aims to make a unique contribution through its approach.
Prioritising education
JRS dedicates itself to three areas of focus in its educational programming:
Teacher Development – Inspired by the Jesuit tradition of Ignatian pedagogy, JRS emphasises the role of the teacher as a transformative educator who can provide more than just quality instruction. Teachers can create the kinds of inclusive environments where children feel safe to learn, reflect on their experiences, and develop their potential.
Enhancing Access to Secondary Education, with a focus on girls – Displaced children are at a disadvantage: fewer than 23% are able to access secondary education. Of this already small group, fewer than 30% are girls. JRS recognises this disparity, and offers focused programmes that support girls as they progress throughout primary school and transition to secondary education.
Professional and Post-Secondary Education – JRS also offers programmes that promote educational and professional goals for youth and adults. This can include language courses and professional skills trainings to promote sustainable livelihoods.
These three areas have now become enshrined as key priorities in our 2019-2023 Strategic Framework, and form the pillars of the Global Education Initiative, a campaign to include a further 100,000 refugees in JRS's education programmes, and to raise USD 35 million to support them.