World Humanitarian Day: JRS staff members share their experiences
19 August 2022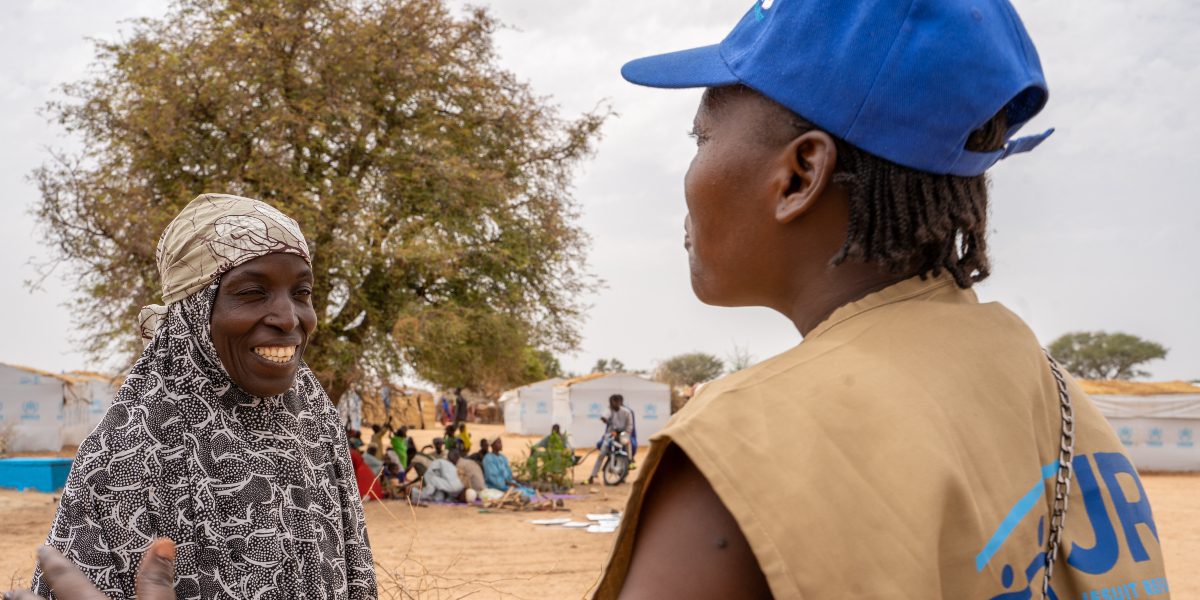 JRS's mission is made possible every day by the commitment of over 8,000 people all over the world. Our staff members, volunteers, and partners all share a passion for serving refugees and a deep connection to our values.
Through a multitude of projects – from educational centres to enhancing forcibly displaced people's food security, from livelihood trainings to reconciliation workshops – each and every one of JRS's humanitarian workers is essential in our mission to accompany, serve, and advocate for refugees.
This World Humanitarian Day, a few of our amazing colleagues share with us some reflections on their experiences working in the humanitarian sector, their understanding of JRS's accompaniment, and their roles contributing to refugees' wellbeing.
Central African Republic (CAR): Louisa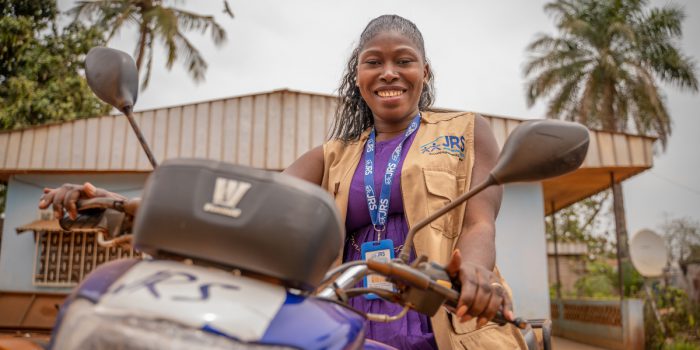 Louisa, born in CAR, is a Monitoring Officer in and around the town of Bambari. The 32-year-old travels miles on a motorbike to provide home-based assistance and ensure the smooth running of projects in a country that has been in conflict since 2013.
"My role as a humanitarian serves as a role model for the vulnerable girls and mothers we serve. They realise that times have changed and that women can also work to lift up a country like ours. A woman's place is not only in the home or in the office. Women must also work in the field as humanitarians to help, save and relieve human life. My experience in JRS has made me a woman fighter, ready to accompany, serve and defend the rights of others."
Thailand: Preecha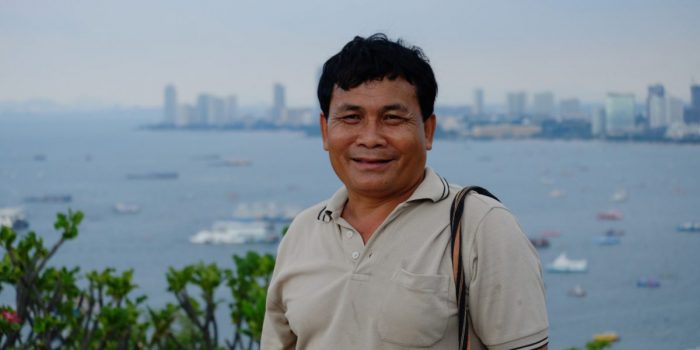 Preecha is a Driver for JRS Thailand in Mae Hong Son.
"When I joined JRS, my life changed a lot. JRS did not only offer me a job, but also a different life experience. I met people of different nationalities, languages, and races, but everyone is equal. Since working with JRS, I have changed my perception a lot towards others, and JRS also improved my life. For me, the words 'accompany, serve, and advocate' are meaningful and important as they represent my work. My job has offered me the opportunity to help people. It is also a voice for those who are disadvantaged. It is a feeling that we can help people who do not have the opportunity and I am proud of my job." 
Chad: Ariane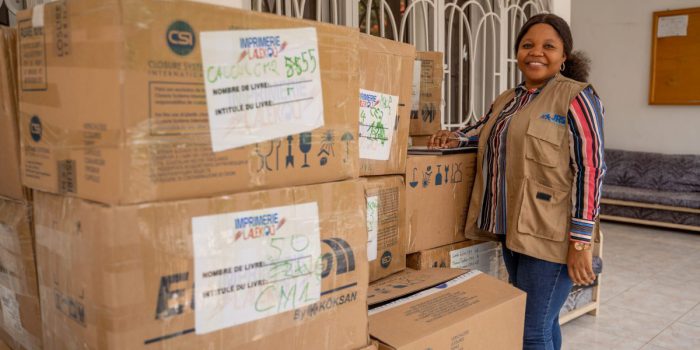 Originally from Cameroon, since 2018 Ariane has been the National Logistics Coordinator for JRS Chad from N'Djamena, the capital.
"Logistics professionals are essential to the implementation of humanitarian projects because they help ensure that beneficiaries have access to humanitarian aid in a timely manner.
The main logistical challenges in Chad are the lack of infrastructure and poor communication systems (roads and internet) or the geographical isolation of the country. A large part of goods and services are imported, and prices and taxes fluctuate constantly.
Some people still ask me how I became a logistician, knowing that it is a job for men. This is funny to me because it is nothing but prejudice. Logistics is something we all do on a daily basis: anticipating, planning, organising, negotiating, purchasing, managing resources…. Why should it be reserved for men?
Our humanitarian work is great, we give hope and joy to people who have lost everything through our programmes. But we sacrifice a lot in our private lives. I have no social life and it is difficult for me to start a family from a distance. I have a son [in Cameroon] who, at his tender age, is already aware that I am not present in his life. I miss his birthdays, I'm not there to accompany him to school or to parties, to help him with his homework…. It hurts me to think about it, but I make this sacrifice to offer him a good future".
Greece: Anna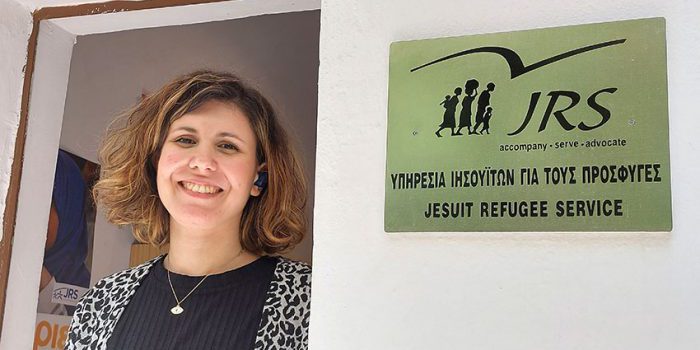 Anna, from Athens, is a social worker by training. She has been involved with JRS Greece for some time before becoming its Country Director.
"I was very affected by the refugee crisis in Greece and also here in Athens. You could see hundreds of people sleeping on the ground  nearby Victoria Square and in many streets of the city. They are tired, desperate people. For me it was a calling. JRS in Greece is small; we can't do much, but the little we do means a lot to the people we help."
Cameroon: Elena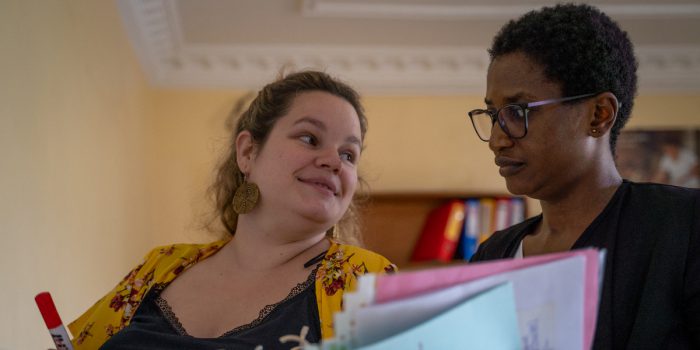 Elena, from San Sebastian, Spain, has been working for JRS since 2018, first in Chad and now in Yaoundé, as National Programme Officer for the Central African Republic and Cameroon.
"My work is a priority and a source of fulfilment in my life. Our efforts contribute to providing a service so that these people can move towards a better future, overcome the conflict situations they have experienced, fully integrate back into society, and become autonomous. I would like the humanitarian sector and the work of NGOs to be better known to the general public. Often in the collective imagination, it is all about volunteering. In reality, it is a professional sector in its own right. We conceive projects as support to vulnerable populations, but always with a vision of collaboration and not charity".
Thailand: Jasmeen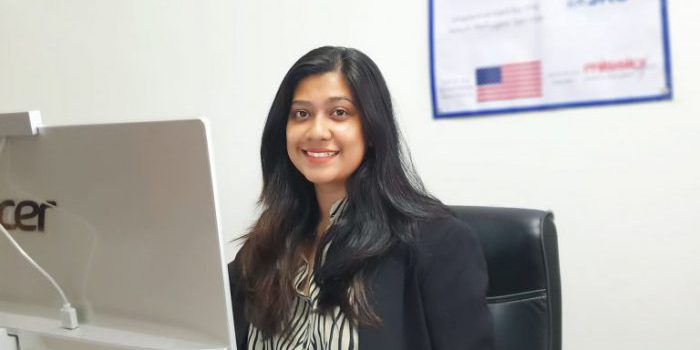 Jasmeen works as a Psychosocial Counselor for JRS Thailand, supporting urban refugees in Bangkok.
"Ever since I was young, I used to always ask myself, how can I be part of a solution rather than a problem? Growing up, my parents always taught me the value and importance of serving others. When I came across JRS mission to accompany, serve, and advocate, I knew deep down inside of me, it was a calling for me to be a part of it. I am forever grateful for this opportunity to be physically and emotionally present for the people I am serving and to be a part of their healing journey. I am grateful to walk with such courageous, resilient and kindhearted people.
Throughout my work in JRS, I have met so many amazing and wonderful souls that have shared their presence and time with me. I respect and honour their stories, feelings, and thoughts in the safe space we have shared.
I believe what makes us human is connection. We strive for connection. Without it, life would not be meaningful. I am lucky to have connected and built a relationship with the people I serve. People want to be seen and heard. After conducting activities and sessions with them I ask myself if I have achieved this. I am thankful to JRS for giving me this opportunity, to walk with them side by side."
Nigeria: C. Anthonia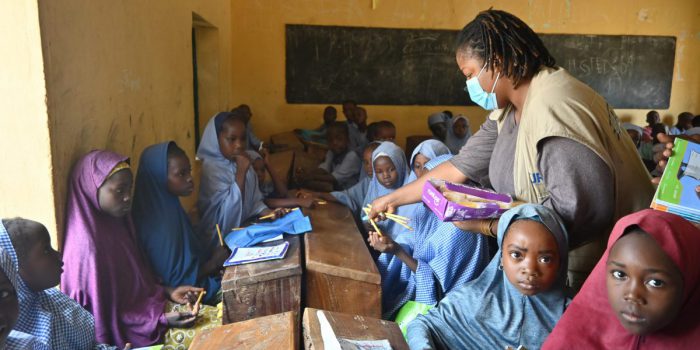 Anthonia, Education Supervisor, coordinates various education interventions in Adamawa and Borno, northeastern Nigeria.
"I started volunteering when I finished high school, and I discovered that service and meeting the needs of others is the true meaning of human life. One moment that really stuck with me was when [during the graduation of a JRS training for out-of-school children] a young girl spoke of how she lost all hope when she fled her village during an attack. At the age of 10, she had already come to the conclusion that her life was over. For her, being able to attend school and learn the alphabet gave her hope and allowed her to dream again of a beautiful future. This encounter reminds me that to make a difference in someone's life I don't need to do great things, I just need to do what I do with love."
Romania: Luiza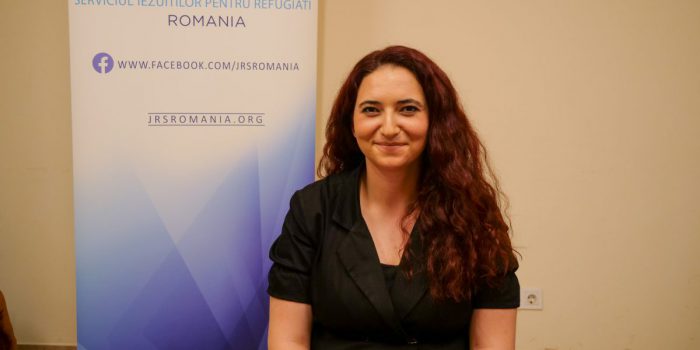 Luiza has been working as Legal Counsellor for JRS Romania since 2011. She is currently involved in assisting Ukrainian refugees in Bucharest.
"To accompany refugees means everything. And why do I say this? Because it can be a smile, a pat on the back, a reassurance that everything will be better, or will it get better… It can be assisting them to the authorities accompanying them to the doctors, lobbying, and advocacy for refugees… It wears a lot of hats, but, at the end of the day, it's human aid. The mothers are often very emotional and when they come to counselling, they just take a time, a moment for them to realize what is happening. They tell their stories and it's always so emotional… because they have to be strong for their children, and when they meet us, they just break down. And this is the most challenging thing for me because you can see all these emotions and all this trauma that are very raw, and they are still going on."
Democratic Republic of the Congo (DRC): Dorcas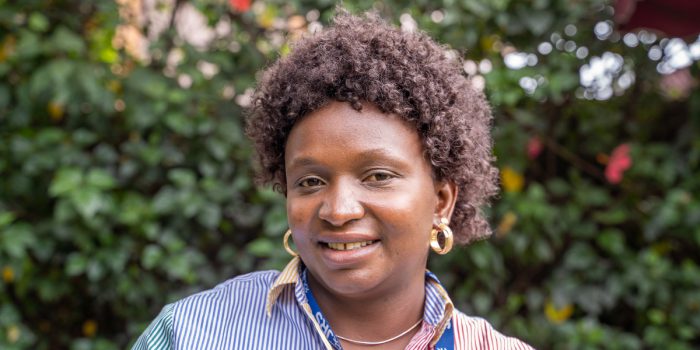 A field psychologist with JRS, Dorcas works with internally displaced people who are victims of assault, much of it of a sexual nature, in the Masisi area and in Goma, North Kivu region.
"In my work, I have dealt several times with people who wanted to end their lives, but after psychological support these people find the joy of life again. This kind of experience gives me positive energy. Before joining JRS, I was working [as a humanitarian] in an insecure area in Rutchuru territory [North Kivu] and we were taken hostage by a group for three days. It was a traumatic experience but, after psychological support, I was able to overcome it. I encourage all women to break the imposed barriers and join the humanitarian world on the ground".
Anna's testimony was originally published by Jesuits Global.
Preecha's and Jasmeen's testimonies were originally published by JRS Asia Pacific.