World Day for Migrants and Refugees: "It is about our humanity"
27 September 2019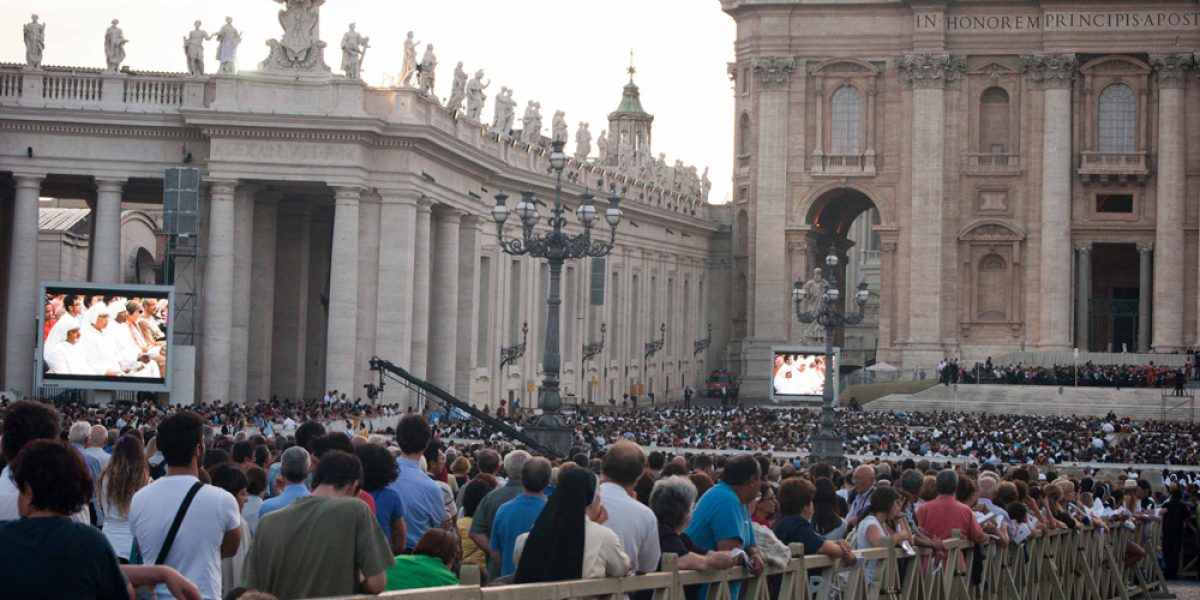 In anticipation of World Day for Migrants and Refugees on Sunday, 29 September, Pope Francis has released a message in which he reminds us that this occasion is about more than just migrants and refugees: the presence of these vulnerable people on the move is really an invitation to reflect upon what makes us human.
"When we show concern for them, we also show concern for ourselves, for everyone; in taking care of them, we all grow; in listening to them, we also give voice to a part of ourselves that we may keep hidden because it is not well regarded nowadays."
In his message, Pope Francis goes back to a scripture passage he often cites, the parable of the Samaritan traveller: "It is not just about migrants: it is about our humanity. Compassion motivated that Samaritan – for the Jews, a foreigner – not to pass by. Compassion is a feeling that cannot be explained on a purely rational level. Compassion strikes the most sensitive chords of our humanity, releasing a vibrant urge to 'be a neighbour' to all those whom we see in difficulty."
It is not just about migrants: it is about our humanity.
Pope Francis
Being a neighbour to refugees
The Jesuit Refugee Service responds to the needs of refugees through its mission to accompany, serve, and advocate for people who are driven from their homes and forced to seek safety elsewhere.  We call on all people of good will to join us in our mission of accompanying these people in need of compassion, in need of finding someone to be a neighbour to them.
Pope Francis tells us that Jesus Christ himself entrusts to the "Church's motherly love" all people forced to leave their homeland in search of a better future (Message for World Day of Migrants and Refugees 2018).
When we accompany refugees, we make room for tenderness, compassion, and generosity – in other words, we learn to love. As we have been told by Pope Francis, "Opening ourselves to others does not lead to impoverishment, but rather enrichment, because it enables us to be more human: to recognise ourselves as participants in a greater collectivity and to understand our life as a gift for others; to see as the goal, not our own interests, but rather the good of humanity" (Address at the Heydar Aliyev Mosque in Baku, 2 October 2016).
Hope for refugees begins with you
Each one of us can make a difference in the lives of forcibly displaced people, each one of us can be a gift to others, each one of us can #Do1Thing for a refugee. In our cities, there are centres to help refugees with food, legal assistance, language lessons. These places are always in search of volunteers and donations. Refugees often need assistance to enrol their children in school, or to get a medical appointment. Parishes and schools have resources to help refugees photocopy documents, or to meet in groups to support one another. We can help a refugee with a SIM card for a mobile phone, or with access to a computer with an internet connection. Connecting to family, friends, and resources for support makes a huge difference in the life of a refugee far from home. We can also make an effort in our workplaces and communities to counter the falsehoods and myths about refugees. We could write to our local politicians to let them know that we want refugees to be welcomed and supported, not demonised and excluded.
Pope Francis calls on all of us to accompany refugees on their journeys, because if we cannot find in ourselves the compassion to assist people in such desperate need, then how can we have real compassion for anyone at all?