Chad: Drawing a better future for refugee girls
21 March 2023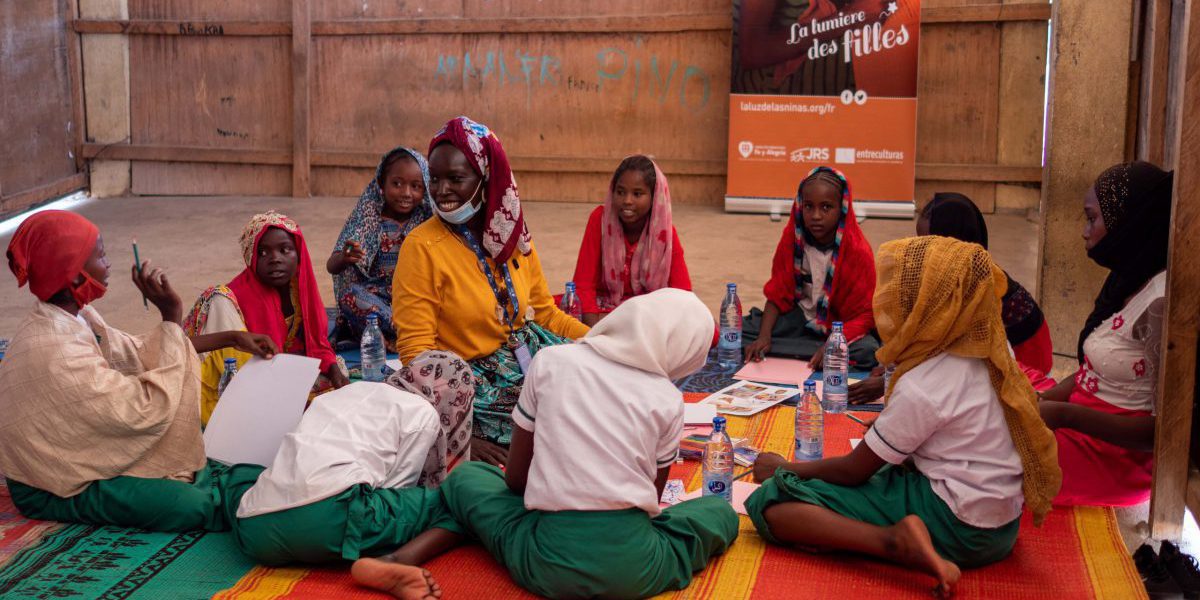 Ten refugee girls sketch fantasy and reality in colourful strokes. Salma Khalil, a Chadian multi-talented artist, is directing the creative process. "Let's move on and draw your house. Who lives in it? What do the adults do? And the children?".
A pile of sketched fires, bullets, empty suitcases, vehicles, and rivers shapes the young girls' different escape stories. Teachers, successful businesswomen, and female drivers are shaping the plans many have for their future.
The children's story of Afaf et l'œuf doré ("Afaf and the Golden Egg"), written and illustrated by Salma, is the result of six workshops like this one. Afaf, the story's main character, and the rest of the villagers look like they come from the purest fantasy. However, they accurately reflect the imagination, memories, and daily lives of refugee girls in Chad. For this project, a partnership between JRS Chad and Entreculturas as part of the Campaign La Luz de las Niñas, Salma met over sixty girls in three refugee camps: the urban refugee settlement in Gaoui, N'Djamena, and the Kounoungou and Farchana camps, both in eastern Chad.
"Our goal is to let the girls express themselves and use their work to tell a story that sets an example for all these children," Salma explains. An example that helps foster peace and living together as well as create inspirations and opportunities.
The obstacles to girl's education in refugee camps.
In vulnerable environments due to forced displacement and lack of resources, girls are even more exposed to abuses of all kinds, such as gender discrimination, domestic exploitation, early pregnancies or forced marriages. For thousands of girls around the world, household duties and lack of school supplies are a major obstacle to spending time studying, playing or socialising with other girls and boys.
"Chores at home never end," Sawakine, a Sudanese teenager says, "If you do the laundry and there is nothing else left to do, you may open your notebook and go over what you have learned at school." Sawakine takes a self-portrait with a diploma in her hand because she says education is key to building a future.
"We girls study for our own good," adds Manara in Gaoui, "tomorrow, when I grow up, I will be able to do anything. I can help my family if they need it".
Refugee girls share their experiences of displacement.
All the experiences of leaving their homeland are still very vivid in the stories and memories of many. Manazi, drew a picture of the road, the trees and the driver who took her, her sister and her mother to the airport to flee to N'Djamena from their home in CAR. "They started fighting next to our house," the girl reports, "[Christians] and Muslims were fighting each other, no one picked up the dead, they were left on the road." She also sketches an empty suitcase, they just left with the clothes they had on.
Sawakine's picture goes back to 2008: "They chased us. With cars and weapons. Many died. We went out barefoot and I was in shock". She says she was ill, although she has now recovered and wants to work as a driver for NGOs in the camp.
"These girls have told everything they saw on their journey, such as violence or murders, in their own way, through pictures," says Salma, "this was very important to let them bring out everything they have experienced." The stories they told begin with a tale of departure, of leaving behind what is dearest to them in search of a better life in another land. Salma herself has a story of forced exile that took place during the 2005-2010 civil war. "As a child, it can be very traumatizing, unsettling, but these girls have recovered with responsibility and courage," she says, "working with these girls now helped me dive into this [personal] situation and understand it".
Imagining a better future for refugee girls.
"For these girls, knowing that being able to choose and develop ideas is their decision, and their duty, is crucial. And that through these ideas they can be useful to society and their little brothers and sisters," Salma argues.
Sharing stories and songs and getting to know Salma's work was an important part of the six meetings between her and the participants. It gave perspective and inspiration about the role of women in society. "I want to draw people, like you," tells Afrah, a refugee in the capital, to Salma, "that is why I will become an illustrator and teach children how to draw."
"As the workshop went on and as we developed stories where the heroine was a girl, they immediately claimed that the village could be led by a woman," Salma explains, "They concluded that women are the ones who run the house, the ones who make the world move." Sawakine is sure about this: "Life is equality: what a girl can do, a boy can do."
A great source of inspiration for Salima, is her mother. A great defender of her children's education, she has brought them up without their father's help and ensures that they don't forget even a single notebook when they go to their school in Farchana." Our mother always tells us that if we finish our studies we will have a future and peace of mind, as she also will," she continues. "Education is very important for children's security," she adds.
The girls, separated by miles, rivers and mountains, showed that they share many dreams. They dream of living together in harmony. They search for a place where the courage of young people is celebrated.
This story was first published by Entreculturas as part of the campaign La Luz de las Niñas.
Meet the refugee girls who participated to the workshop