Lebanon: Manar, Beirut explosion survivor and Syrian refugee who lived to tell
04 December 2020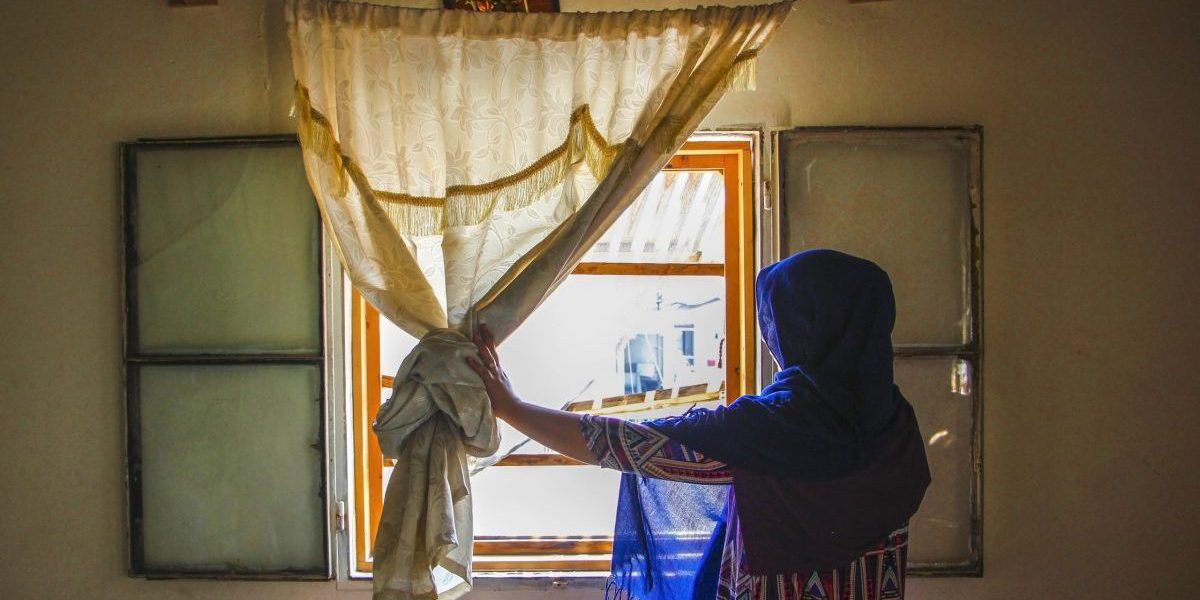 The memories associated with Beirut explosion are hard to forget for the many who witnessed this unfortunate event. They are still appalled by the fear and pain they felt on the dreary afternoon, four months ago today. As survivors tell stories about their experiences, they no longer feel isolated. Their emotions bind them to others who both acknowledge and resonate with their pain, and JRS provides mental health resources to help them process those emotions.
About a month after the explosion, we met Manar, a 36-year-old refugee from Syria, at her house in Bourj Hammoud, a few kilometres from the Beirut port. She welcomed us with her two sons who were with her when the blast rocked their building. She vividly described that life-changing moment. "I was getting ready to watch a TV series with my husband who had just arrived from work, and my two sons were sitting next to me. I felt hot air, but I did not know where it was coming from.  I looked out from the window to check the source. All of a sudden, I heard a powerful explosion. It was like an earthquake, everything was shaking. I screamed at my sons to run and take cover."
Smoke and dust clouded her apartment and Manar feared the worst. She considered putting her veil and clothes on because she was expecting death. "I could not comprehend what is going on; it was like a movie where we were amid this disastrous city, it was unbelievable," she explains, in shock.
From Manar's balcony, we can see the red cranes of the harbour, a key part of Lebanon's infrastructure, which is now reduced to rubble. Manar is still having flashbacks from that day. She recalls the scene of the cars colliding on the bridge facing her balcony, and seeing shattered glass everywhere. She still remembers the sounds of the people screaming and the sights of mothers holding their children's hands crying as they try to escape.
I gave a hand to all the children at my building. God inspired me with strength on that day to support those in need.
Manar, Syrian refugee
Moved by the children's screams, Manar went to check on her neighbours to help ease their pain. "I carried one of the children and treated his wound. I gave a hand to all the children at my building. God inspired me with strength on that day to support those in need," she says.
Three hours after the explosion, Manar started cleaning the house, sweeping glass from the floor and washing blood stains. But the emotional impact of the blast lingered far longer than the physical. In the nights after, she could not sleep and her husband would often wake up screaming in the middle of the night. Even today, he still has nightmares and her two sons are afraid to sleep alone.
The explosion brought back sad memories of Manar's past in Syria. She thought of her brother, cousins, and brother-in-law who passed away. She says the explosion in Beirut was worse than anything she experienced in Syria.
Despite the damage to her house, Manar still has a positive outlook on life. She says that her family was granted a second life and, much like the experience of the Coronavirus pandemic, the explosion is an invitation for a new perspective. "I did not lose hope at all. Now I pay attention to all my actions and behaviour. People can die at any time," she says. Manar is now receiving counselling sessions with the social worker and clinical psychologist at JRS to help her cope with this traumatic event.