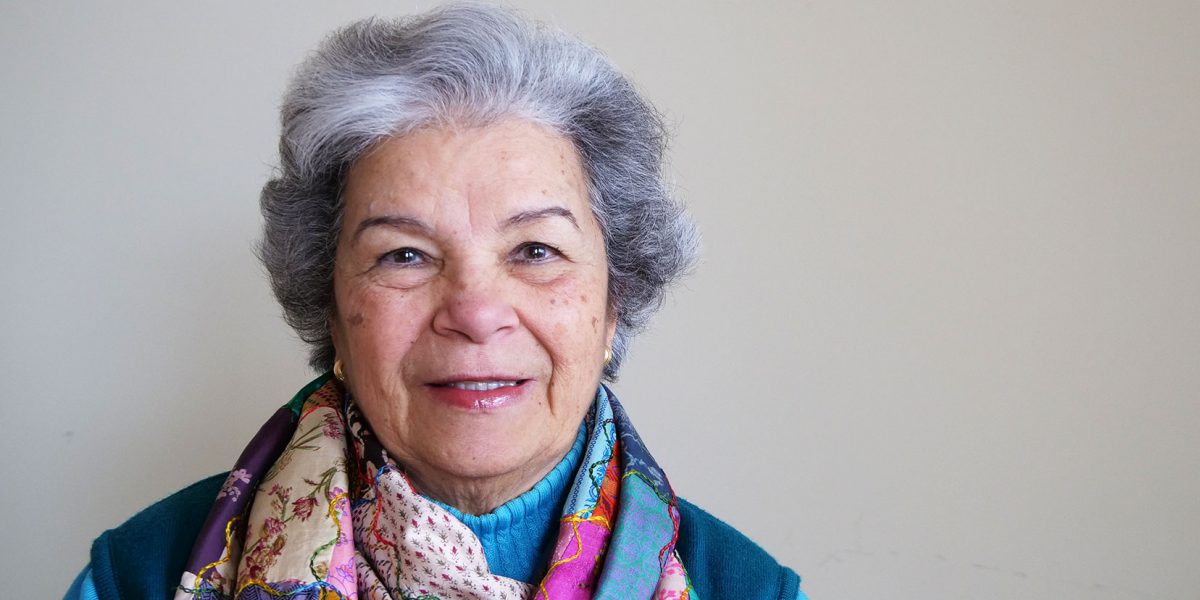 Originally from Puerto Rico, Hilda Serrano has lived in Rome since 1971 and began working for JRS in December 1985. Since retiring in 2013, she has continued to volunteer for JRS, spending every Tuesday in the international archives. Looking back over 35 years, Hilda reflects on how JRS has evolved, but remains grounded in Fr Pedro Arrupe's vision.
Describe your life when you first became involved with JRS.
I was working with the Press Office of the Society of Jesus and transferred to take on the role of secretary at JRS under its first director, Fr Dieter Scholz SJ. Together we built the office. We started accounting, set up a room in the Curia where we stored winter clothes and distributed them to mainly Ethiopian refugees. I helped with meetings, bulletins, and later worked in administration. Little by little, JRS grew and became a very welcoming, happy office.
I met Fr Arrupe on several formal occasions. What I remember most about him is that every time he passed my office, he would stick his head in and say, "Come va? Tutto bene?" This gesture will live in my memory forever.
Where are you in your life today?
JRS changed my life, over 35 years, and I am happy to still be involved to this day. Coming to the office gives me a chance to remember and reflect on all that we have accomplished, and all that is happening today. JRS now faces new world events and challenges, but as Fr Arrupe said, "We cannot solve today's problems with yesterday's solutions." It is amazing to see how JRS continues to adapt to today's needs, but holds on tight to the roots that were established long ago under Fr Arrupe.
 What difference did JRS make in your life?
JRS gave me a new outlook on the world. Before working there,  I was quite unfamiliar with the extent of people's suffering and all that was being done to remedy it. Working with JRS also allowed me to get to know the Society of Jesus, to work closely with the Jesuits, and to see how they lived. All of this gave me a new perspective, a chance to count my blessings, and a set of tools and frame of reference on how I wanted to live my life.
 JRS talks about walking with the people we serve and accompanying them on their journeys. What does accompaniment mean to you?
JRS takes a different approach to helping people, by not only providing material support, but by being with them, listening to them, and giving them necessary tools for their future – like education, formation, psychosocial support, hope. Accompaniment is very important for JRS, and I remember what people from the field would say about their work and sharing Fr Arrupe's ministry of being with rather than doing for. That is true of JRS. I was accompanied by my superiors and colleagues, and I still receive that companionship and support from JRS staff today.
Read more testimonies of our partners and companions here.