JRS and the International Campaign to Ban Landmines: 25 years of the Ottawa Convention and 25 years of the Nobel Peace Prize
02 December 2022
|

Amaya Valcárcel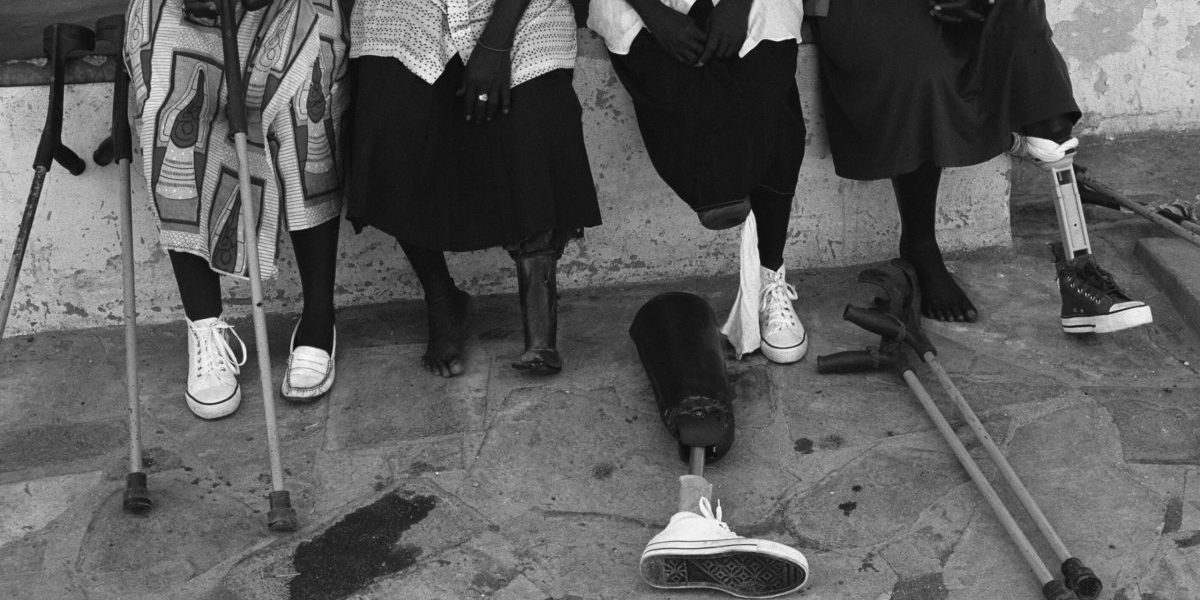 3 December 2022, Feast of St. Francis Xavier – By Amaya Valcárcel
JRS joins the International Campaign to Ban Landmines (ICBL) movement, one of the best examples of multilateralism today, in the commemoration of the 25 years of the Ottawa Convention and 25 years of the Nobel Peace Prize.
Many in JRS still remember the iconic 1997 photos 1997 of Tun Channareth in his wheelchair receiving the Nobel Peace Prize on behalf of the ICBL and the Ottawa Treaty on behalf of Cambodian civil society. In November 2022, Reth attended the 20th Meeting of States Parties in Geneva and campaigned as vigorously as he has over the last 25 years.
Reth's own experience as a landmine survivor has been key in making the campaign a meaningful movement. The Ottawa treaty continues to be of vital importance in addressing disability issues. It continues to be a model for a rights-based approach for other disarmament processes.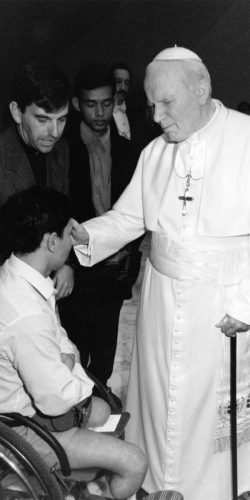 Tun Channareth together with Pope John Paul II and Kike Figaredo SJ. Rome, 1997
Recently, Cambodia celebrated 30 years of mine action and at the campaign booth Ms. Sok Eng was able to present Prime Minister Hun Sen with the 2022 Landmine Monitor. Later, during his speech, the Prime Minister said Cambodia and Thailand had agreed to remove all mines from the border even before addressing border demarcation issues. This is a huge progress and 2025 is looking more possible for the completion of mine clearance.
Sister Denise met with the Prime Minister of Canada with a group on Women Peace and Stability, where addressing the challenges of mines was an important topic. Mr. So Not and other survivors have been prominent advocates at a series of meetings with the government. 88 campaigners, many with disability, will run in the Marathon in Siem Reap on December 4, led by Bishop Kike Figaredo SJ.
However, countries like Myanmar and Ukraine are still experiencing the use of landmines, which impact innocent people years after a peace agreement is signed.
Today, people like Zawthing and his wife suffer from this impact. They are both Chin refugees from Myanmar in India. 23-year-old Zawthing, recently lost both his hands and his right eye to an explosive during the military conflict on the Myanmar-Mizoram border. It has become very challenging for him not to be able to work and be totally dependent on his wife, Tin May-Si. Despite all the odds, Zawthing has not lost his hope and aspires to learn Computers someday at the JRS Centre in Delhi.
Much has been done and as the story of Zawthing shows, unfortunately much remains to be done, namely:
To stop use of mines in Myanmar & Ukraine, indeed everywhere for all time
To speed up clearance to reach the 2025 target
To ensure rights and meet needs of survivors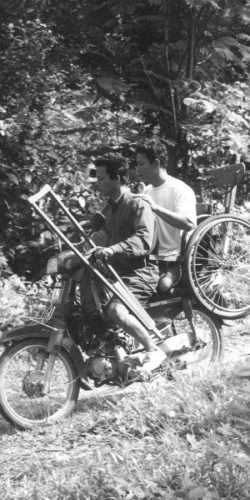 Sovan and Reth (on the back of the motorcycle), carrying a wheel chair for a landmine survivor in the Cambodian countryside.
Any anniversary is also a time for memories. At a country directors meeting of JRS in Rome in 1994, convened by Fr. Mark Raper, Fr General Kolvenbach urged that the Society be active in eliminating landmines.
Names of JRS people who responded over the years come to mind, Sr Patricia Pak Poy (Aust.) Sarah Njeri (Kenya), Emiler & Ah (Thailand), Fr. Eddy Jadot SJ, Fr. Jeff Van Gerwen, Song Kosal, Hilda Serrano, Anthea Webb, who got a letter from Mother Teresa in support of the campaign, Lars Stenger (Indonesia,) Andy Hamilton SJ, Br Steve Power SJ, Fr Jorg Alt, Totet Bayanal SJ and Richi Fernando SJ, too many to mention and of course those persistent Cambodian campaigners.
Together we pray so landmines are removed from earth and from all hearts: "Blessed are those who hunger and thirst for justice, for they shall be satisfied." (Mt 5:6)
Pictures from JRS archives.