Syria: War cannot destroy his dreams
30 August 2018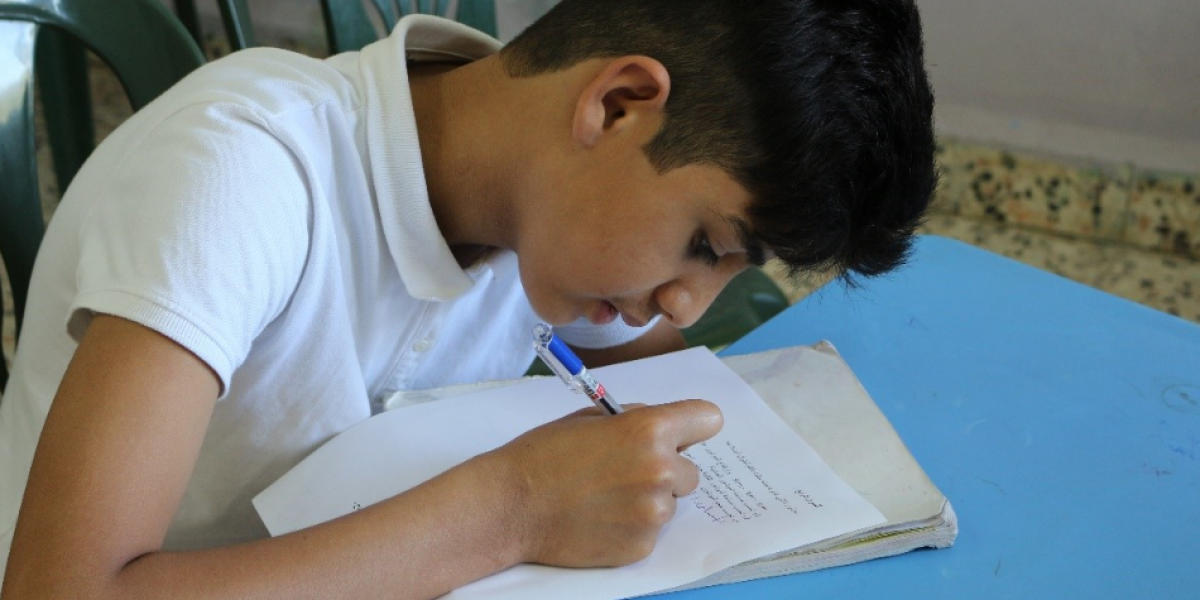 Kafroun – Farid* has dreams of a better future and forgetting the harsh realities of his daily life. An enthusiastic 13-year-old, he loves to go to school every morning and then to the Jesuit Refugee Service (JRS) Kafroun Centre in the afternoon.
Farid used to live in Der-Ezzor, in eastern Syria with his parents and 6 siblings. "Like other families in the area we had a fairly stable life," he says with nostalgia. "My father was an engineer, my mother worked as a nurse. When war broke out in Syria, we were enveloped in fear and insecurity. In 2015, we were forced to flee to rural Tartous, leaving all our memories and everything behind."
After displacement, their situation became worse. They rented a small house. A little later, Farid father was transferred to the other side of the country for his job, but the family had to stay on in rural Tartous.
In order to help my family make ends meet, I found work in a restaurant. Overnight I became a 'little man'.
Farid, JRS Kafroun Centre student
Farid's father asked his mother to join him and settle down with the children. They ended up fighting because she was unable to do so. Farid's mother went back to Der-Ezzor with Farid and his brothers but, after some time, Farid returned to live in rural Tartous with one of his relatives. In a matter of months, the entire family was separated from one another.
One day, Farid heard from his friends about the JRS Kafroun Centre and the wide variety of educational and recreational activities that were offered there. The centre was exactly the place Farid felt that his dreams could be realised, as no one else seemed to have the capacity to accompany him in his studies. With a smile on his face and a twinkle in his eyes, he says, "My dream came true when I enrolled at the JRS Kafroun Centre."
In the early days at the centre Farid was very talkative and rather inattentive. However, in just about 5 months staff noticed a positive change in Farid: he became more committed to his studies, more attentive in general, and also more cooperative with his friends.
As he shares his experience, Farid says, "I love this JRS centre very much; I thank all my brothers and sisters here for all the attention and follow up they give me. I now have many friends here and I am very happy with myself. In particular, I am grateful for all the encouragement I receive for learning French. At one stage I could not read or understand a single word in French; today, I dream of going to university to become a French teacher one day."
Farid is one of many Syrian children of who has experienced life at its worst. However, with determination, he hopes to realise his dreams for a better and happier future. War cannot destroy his dreams!
*Names and identifying details have been changed to protect the privacy of individuals