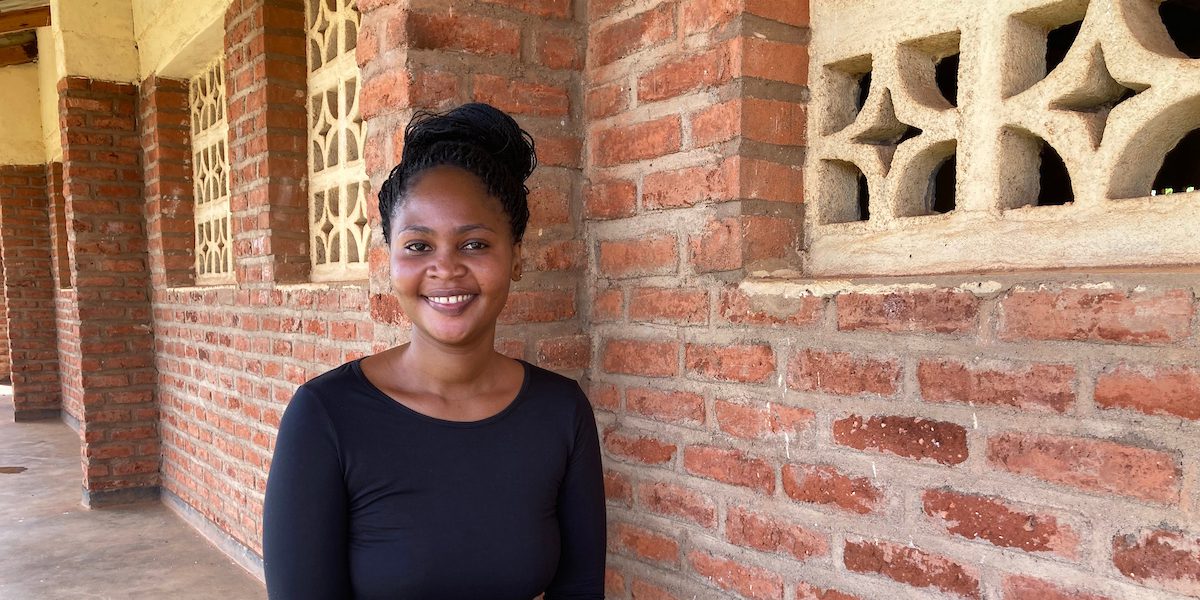 "I wanted to study social work to help people in my community," confesses Perfect, a young refugee woman living in Malawi. To achieve her dream, however, she had to work harder than most.  
As a refugee and as a young woman, accessing educational opportunities is extremely challenging. Globally, only 68% and 37% of refugee children were enrolled, respectively, in primary and secondary education in 2021 – with fewer girls going to school than boys. At post-secondary level numbers dropped even more, with only 6% of refugees having access to university.  
Within that painfully small 6%, there's Perfect, together with Francine and Marie: three young women who arrived to Dzaleka refugee camp, Malawi, after fleeing conflict, violence, and persecution.  
By 2019, they had something in common: they all took part in JRS' Naweza project, run in partnership with the Fidel Götz Foundation, which seeks to empower refugee girls and improve the quality of their education, security, and well-being.  
As part of the project, all three were awarded scholarships to pursue an undergraduate degree at the Catholic University of Malawi in Chirazuru. The experience brought them hope in an almost hopeless time. Perfect, who just finished her coursework to become a social worker, recalls, "When I knew [about the scholarship], after two years passed since finishing high school, I thought, 'my future is back'. [Before] I had no hope, at one moment; I thought, 'ok, next step is just to get married', so it was like if my future was back."  
Unfortunately, a girl's effort, intelligence, and will to continue her education are often insufficient – especially for those who are forcibly displaced. As Marie – who is just waiting for the result of her final exam to become a social worker – reflects, "There are so many girls out there who want to continue their education. They don't have that chance of going back to school because of financial issues, because of basic needs."  
There is indeed a need to provide more of these opportunities to all refugees, especially girls, given the cultural and economic barriers they must overcome. Yet accompaniment during the educational journey is as necessary as the initial push through a scholarship. Francine shares: "I started my first year doing business administration. I got into my second year, and it got really tough. I was like, 'I don't think I can do this.  I don't think I can manage it.' But JRS kept telling me that I could. They kept encouraging and supporting me with the resources that I needed until I finished."  
Naweza means "I can" in Swahili: every day JRS walks with these young women, reminding them of that truth. The girls' educational achievements mean hope and success for themselves and their communities. A common theme in Perfect, Marie, and Francine's testimonies is that they want to give back, especially to other girls.  
As Perfect explains, they feel responsible for accompanying girls in their community, helping them "figure out what they want for themselves, what they want to be." They want to share their experience "to help them understand the importance of education and other things that make you overcome difficulties." Ultimately, they want to share what they themselves have learned: when supported and guided, every single girl can indeed heal, learn, and determine her own future. 
To achieve this, in 2019 UNHCR committed to increasing refugees' access to higher education to 15% by 2030. Reaching this target would mean many more young women and men will get to nurture their fullest potential and give back to their communities, host countries, and the world. 
In Perfect's words to refugee girls out there: "Keep going, keep fighting, keep being motivated, keep being committed. Stand up for yourself."