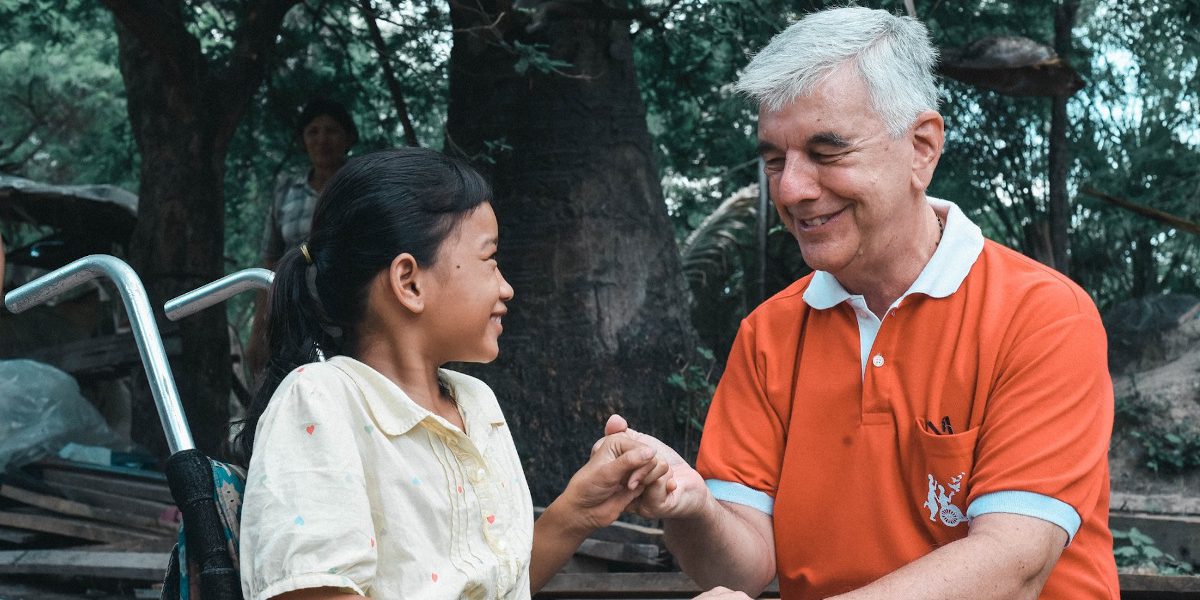 Enrique "Kike" Figaredo SJ is the Apostolic Prefect of Battambang, Cambodia where he is known as "the bishop of the wheelchairs," for his humanitarian assistance with landmine victims. He hails from northwest Spain and worked with JRS in the Thai-Cambodian border in the 80s and 90s. He continues to work with refugees in Cambodia, primarily the Montagnards (Dega) from Vietnam and now people fleeing Myanmar.
When did you join JRS and what do you do in your current role?
I have been involved with JRS for 37 years. When I was a Jesuit scholastic in Spain, studying economics and philosophy, one of my professors introduced me to the work of Fr Pedro Arrupe SJ and he encouraged me to join JRS. I wrote to my provincial to ask for his permission, which he granted. A year later, I received a letter from Mark Raper SJ (JRS's first Regional Director in the Asia Pacific Region) in Bangkok, who wrote to welcome me to their projects in the camps on the Thai-Cambodian border, where they were assisting refugees from Laos, Cambodia, and Vietnam.
Before heading off to Thailand, I made my first trip to Rome to visit Fr Arrupe. He was already quite debilitated and in a wheelchair, but his deep faith and compassion were strong. We talked about the work I would be doing in the camps. "God wants me to stay in Rome, but you will go in my place," he said. It was a moving moment and I felt like I had received a blessing from a wise elder.
Many of the forcibly displaced people that JRS was assisting were disabled by landmine accidents. I helped coordinate work in small centres that we developed so that the refugees could learn technical skills. A few years later, I returned to Spain to complete my studies and I was ordained a Jesuit priest. By that time, I realized my commitment to the refugees in the Thai-border camps and I immediately returned.
After many years of work with refugees and the church in Cambodia, I was appointed the Apostolic Prefect of Battambang in 2000. I am currently the liaison for JRS, and I helped to establish the Arrupe Centre where we provide livelihoods and education projects and healthcare for disabled refugees. I have distributed so many wheelchairs throughout the community that I am known as "the bishop of the wheelchairs."
The disabled refugees I have had the privilege to accompany have transformed my own life. It has been a gift to have the opportunity to help them find hope, independence, and mobility.
Fr Kike Figaredo SJ, Apostolic Prefect of Battambang, Cambodia
What brought you to serve refugees? Do you have a "cannonball" moment that led you to dedicate your life to the marginalised?
In a Jesuit way, the inspiration for being with them comes from La Storta, the small church in Rome where St. Ignatius and two other companions were traveling. While praying there, St. Ignatius had a vision in which he saw God the Father, and Christ carrying the cross. God asked Ignatius to take Christ as his servant, while Christ assured Ignatius that he would be favourable to him in Rome.
I have spent many years with people who like Ignatius have been wounded because of war. Ignatius's wounds brought him to conversion and transformation. The disabled refugees I have had the privilege to accompany, many who have struggled and were fighting for their lives, have transformed my own life. It has been a gift to have the opportunity to help them find hope, independence, and mobility. To witness their strength and ingenuity.
For example, years ago a group of refugees decided that they wanted to build electric guitars to play during the Christmas celebration. I told them, "We are in the camps with no electricity." They told me not to worry: if I could bring them the parts, they would take care of the rest. I went to Thailand to bring them the things they requested, and they made three beautiful guitars! They even managed to borrow a generator and loudspeakers and they formed a band that played on Christmas and New Year's Day.
Pope Francis says, "No one saves himself. We are either saved together or we are not saved." How does this message speak to you and your experience with forcibly displaced people?
When someone is suffering, we are all suffering. This is made clear with the families that we are helping in Cambodia, some who must deal with issues such as minimal access to water. We cannot be at peace when they are feeling hardship and their lives are threatened. As for myself, I realise that I need the help of my Jesuit community and especially the people that I'm serving. This is my ministry, but they support me with their love, kindness, smiles, and their spirits. We save each other. At the Arrupe Centre there is a community of children, and we welcome them because they have no families, or are very poor. Despite their disabilities, they are joyful and bring happiness and life. They make the centre feel like a home.
Landmine accidents worsened the desperate situation that the refugees in the camps were already facing. But currently, there are fewer accidents and improvements to the roads have made access to hospitals more accessible. There have also been important advances in medical interventions that have made amputations less frequent. The Cambodians have also become experts dealing with landmines, even globally. They are working with projects in Africa, the Middle East, Central Asia, etc. They have been able to use their own suffering to help others.