Ignatian Year: Being close to refugees, journeying together
06 June 2022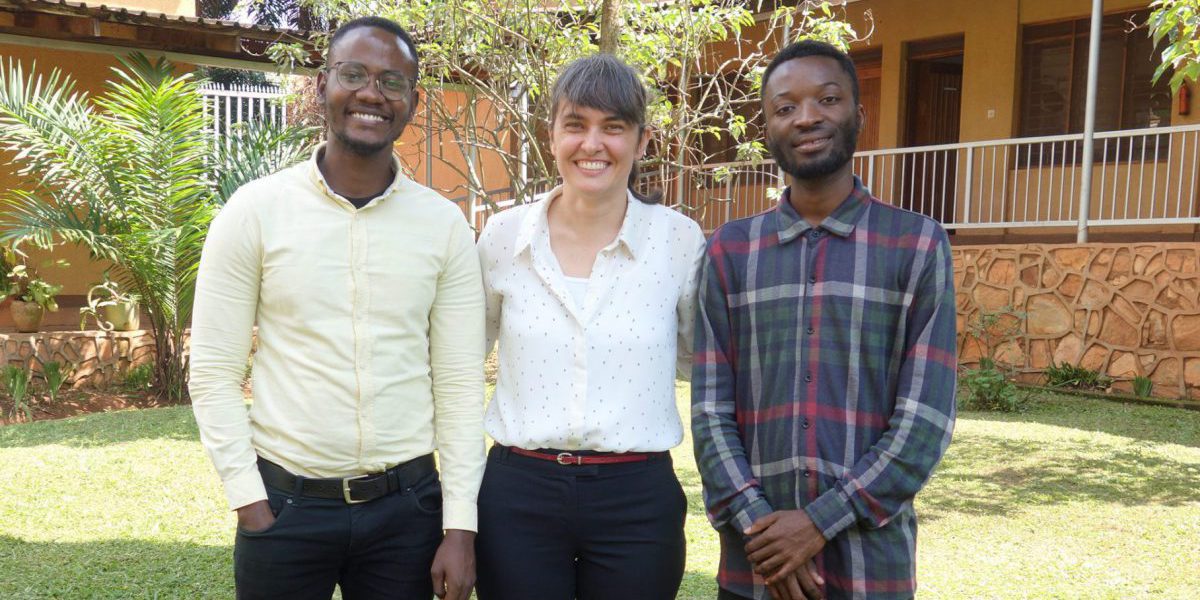 When did you join JRS and what do you do in your current role?
I joined JRS in April 2017 as Programmes Officer for JRS Uganda. Since July 2021 I have been appointed as Country Director. This entails the overall supervision and management of JRS' interventions in Uganda, from Human Resources over Finance and Compliance to Networking with partners and donors – in a nutshell.
Before joining JRS, I had been working in Germany with a Cooperative in Microfinance. At some point, I contacted a Jesuit in Rome, whom I knew for some time, who connected me with the Regional Director of JRS in Western Africa. I participated in an interview, and they offered me the Programmes Position in Bangui, Central African Republic. At that time, this seemed to me a bit risky. I gratefully did not take the offer but sent my application to the Regional Office in Nairobi. There were two possibilities, either in Kenya or Uganda. I have chosen Uganda and since five years now it has been my home.
What brought you to serve refugees? Do you have a "cannonball" moment that led you to dedicate your life to the marginalised?
[I started] not necessarily for refugees but to find a responsibility and task which gives me satisfaction. At the end of the day, when I look back and ask myself what have I achieved or what have I done, I always know the reason why I am doing what I am doing.
During my studies, I participated in a workcamp in Kenya in 2002, near Lake Kisumu, organized by Kolping International. These four weeks were the best experience so far in my life and I knew that one day I will live and work abroad.
My working experience with the Jesuit Mission Office in Nuernberg, Germany, from 2006 to 2011, opened my eyes to different projects worldwide including JRS. I am convinced this opportunity was a door opener for me to where I am today.
During my different working experiences in Germany, I always felt that something was missing. Here in Uganda, being close to the refugees, makes it easy to see the daily struggle and efforts resulting in improving the life of those we serve.
Being close to the refugees, makes it easy to see the daily struggle and efforts resulting in improving the life of those we serve
Christina Zetlmeisl, JRS Uganda Country Director
Is there something from the life of St. Ignatius that inspires you in your work for JRS?
Following the Ignatian Principles for making prayerful decisions we need to take time with any decision we are to make, be patient, trust the process, and ultimately trust that God will lead us to the right place if we do our part as best we can.
Being patient has not been and is not yet my strength. It forces me daily to re-think my way of handling challenges and tasks, especially when it comes to human beings.
Pope Francis says, "No one saves himself. We are either saved together or we are not saved." How does this message speak to you and your experience with forcibly displaced people?
Reflecting on those beneficiaries I personally have met and continue to meet, either in Kampala or in Adjumani, it reflects the daily experiences we are encountering. By walking alongside them, journeying with them, even only by being there and listening to their sharing, we give them hope. We help them to believe and trust in a better today and tomorrow. As we journey together, we can help and try to lift the burden. But we can only do this because of the generous support from the different benefactors and by the Grace of God.
A few weeks ago, Peter* a refugee from DRC, sat in my office crying. He and his wife arrived in Uganda in 2016, with their five children and a nephew they had taken in. Because Peter, a survivor of torture, is unable to work due to his injuries, his wife always provided for the family. When she passed away last year, the family's needs grew exponentially. Peter came asking for support to send his six children to school. While we were only able to offer educational scholarships to his eldest and youngest, he was immensely relieved.
These are the moments where we as JRS just need to be there, even if we do not necessarily have the financial means to support. But our presence makes the difference.
*Names have been changed to protect privacy.