Meet Serge, a refugee and pen artist drawing sketches of his future
10 December 2023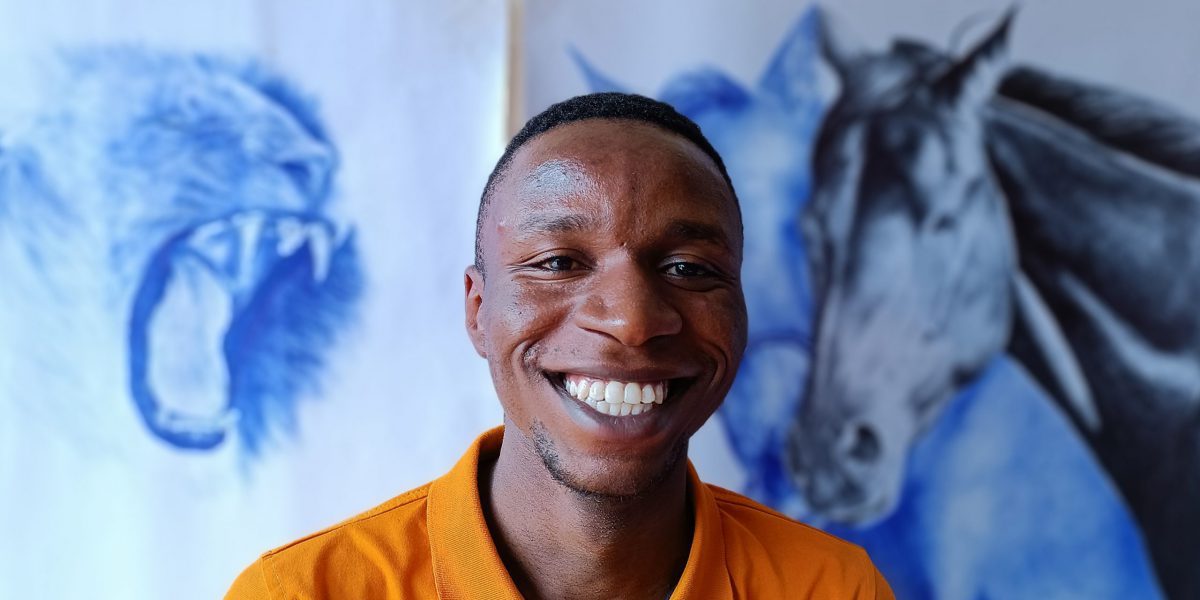 Serge* is standing in front of a blank sheet of paper with a tiger drawn on it. He is sketching the last details of one of the artworks with which he has populated the orange classroom of his school in Kampala.
Originally from the Democratic Republic of Congo (DRC), he and his family were forced to flee to Uganda in 2009 in search of a safe place to stay. He was very young and barely remembers what happened the night he fled. "My dad was a gold miner. He was wanted by some armed men, so in 2005 he fled to a place none of us knew, neither me nor my mum, nor the other members of our family," Serge explained. Four years later, gunmen attacked his family hoping to get information about his father's location, and killed his grandparents and aunt. Hence began his journey as a refugee, which has been quite a ride.
"Life in Uganda was not easy. We had no friends or relatives to support us to settle down. We had no food, we were trying to survive like birds in the air," he commented. As time went by, he wanted to start school, but his family did not have enough money to pay for the school fees. In addition, Serge had no knowledge of English to be able to attend classes with his other classmates.
I started drawing portraits, pictures, and abstract art, and selling them to support my family's income.
Serge, a Congolese refugee and pen artist living in Uganda
For Serge, art was not only a passion but also a way he could contribute to his and his family's well-being. "However, it became clear to me that the opportunity to study without interruption was the only chance for me to become a better person and not a scrap collector on the street."
He enrolled in the JRS English course in Nsambya, where he achieved excellent results and was sponsored by JRS to start primary school. He excelled in school, and this earned him two further scholarships, to Ocer Campion Jesuit College in Gulu and to Crested Secondary School in Kampala. "I hope to pursue a civil engineering course at university. I would like to be able to combine the two things I am most passionate about, art and engineering. That would make me dynamite."
*name has been changed to protect the identity of the person.