Endurance, an internally displaced girl in Nigeria, returns to school
11 March 2022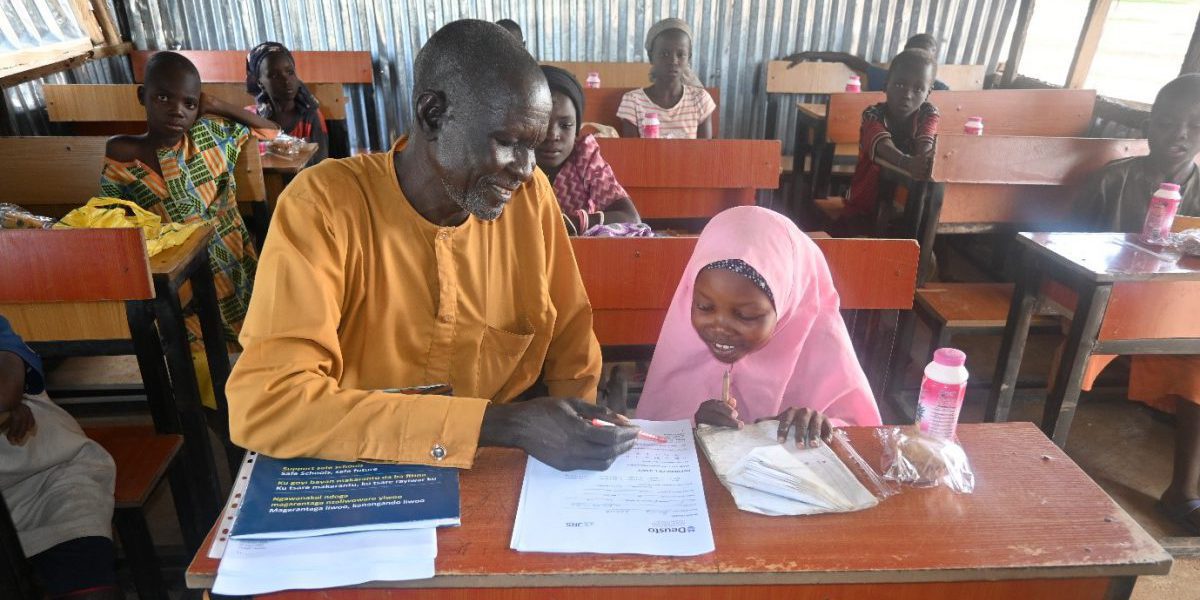 Five years ago, Endurance's family was forced to leave Damboa, Nigeria, with just the clothes they had on. Their story is like many others' from Damboa, who were forcibly displaced when insurgents invaded the community, setting houses ablaze and killing anyone attempting to stop them.
11-year-old Endurance and her family were forced to say farewell to the community they called home and began a new life at an Internally Displaced Persons (IDP) camp. However, three years ago, the family decided it was time to rebuild their lives, so they relocated to Azare and have been living with a host family ever since.
Commenting on how displacement affected her education, Endurance explains: ''When we left Damboa, my hopes to continue my education were dashed. I have always loved going to school and I am just one of the lucky girls whose parents are passionate about girl-child education. Sadly, I had to quit school because of the crisis in my community.''.
I am excited that I am on the right path to becoming a doctor.
Endurance
Endurance's story is not uncommon. The education system in North-East Nigeria has been impacted by the crisis, leaving generations of children without opportunities to learn and even more vulnerable. According to United Nations Children's Fund (UNICEF) more than 2,295 teachers have lost their lives while 1,400 schools have been destroyed in North-East Nigeria since 2009. As a result, 2.8 million children in the area are in need of education, with 75 per cent of children in IDP camps not attending school.
To address this issue, Jesuit Refugee Service began the implementation of the Accelerated Learning Program (ALP) in Borno and Adamawa State. The project aims to support children's access to formal education by supporting non-formal education, which gives leeway for teaching literacy and numeracy before children are re-integrated into the formal education classes and curriculum.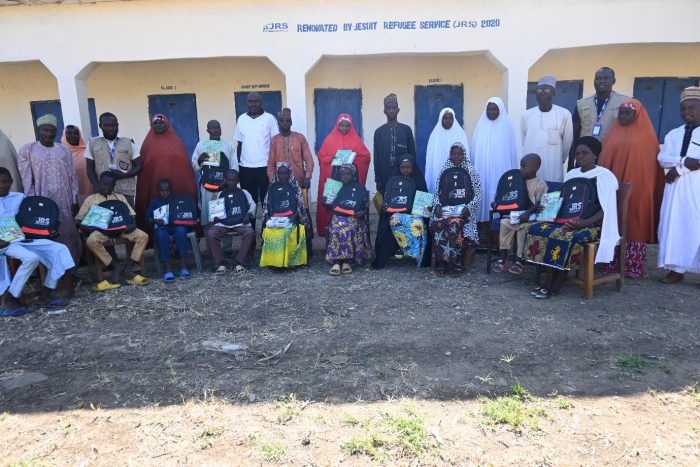 Formerly out-of-school children with their parents and teachers in Azare, Nigeria.
Endurance's dream of becoming a doctor was revived in 2021 when she was selected with 60 other children for re-integration into the formal education system in one of JRS's supported schools in Azare, which is operated in collaboration with the Adamawa State Universal Basic Education (SUBEB).
Narrating her experience Endurance says: ''I am so happy to be one of the children selected for the programme. We were taught two subjects: Mathematics and English. English is my best subject. I was also provided with learning materials and snacks throughout the duration of the programme. I enjoyed all the lessons organized by JRS, they were a great refresher for me since I had been out of school for five years".
Beaming with smile, Endurance announces she has good news to share.
''I have been admitted into Junior Secondary School 1 at the Government Junior Secondary School, Azare, Adamawa State. I could not have done this without the support from JRS Nigeria. My mother is committed to supporting me through my secondary education and I am excited that I am on the right path to becoming a doctor".
The ALP project was funded by the Catholic Church, which allocates part of the eight per thousand share of total income tax revenue to charitable activities in the third world countries and was implemented from 2020 to 2022.