Chad: Ensuring children with disabilities are not left behind
07 January 2021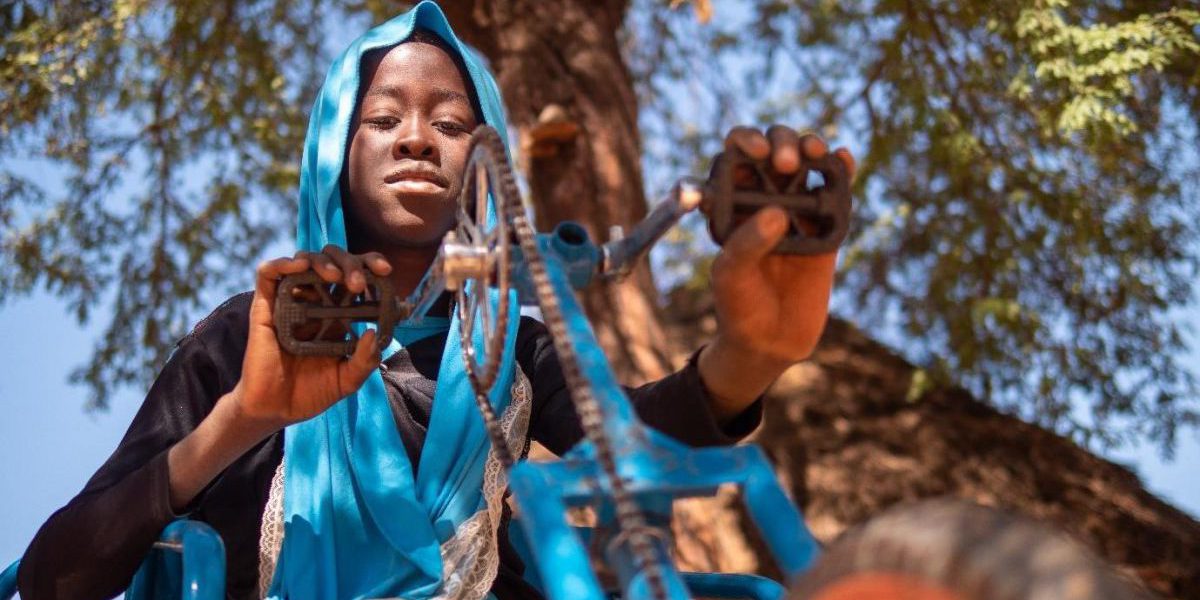 Sadié, 13 years old, was born in Djabal refugee camp, in the region of GozBeida, Eastern Chad. She has nine family members in the camp and lives in a house with three of her siblings and her mother, Fatna.
Unlike other children in Chad, Sadié did not start attending school at the age of six, but when she was eight years old. A paralysis in her legs has always prevented her from walking and made it very difficult to join her classmates. Every morning, she was forced to crawl along the dusty roads in the camp to go to school. Apart from slowing her academic progress, Sadié spent most of her time inside the house due to her lack of mobility.
In November last year, Sadié received a tricycle from the UNHCR and Jesuit Refugee Service (JRS) as part of a programme that encourages children like Sadié to follow their studies and enhance their social integration by providing them with resources like tricycles to assist with mobility.
Now, Sadié goes to class every day and it is easier for her to do things like spend time with her friends and visit her aunt.
In school, Sadié enjoys Arabic and Mathematics in particular, and has dreams of becoming a mechanic. "I love school," she says, but she also expresses her need for proper supplies, such as notebooks, a bag, and a ruler, which her mother struggles to afford. Working as a cook in a restaurant, her mother Fatna does not make enough to meet her children's other needs in addition to feeding her family.
On the challenges that Sadié's disability has presented, Fatna describes the unhappiness that Sadié experienced when she was forced to stay home most of the time. "Before we got the tricycle, we struggled a lot," she says, "because I did not have any means [to transport her]. When the child was ill, I had to carry her on my back to bring her to the hospital."
Other children are in need of special services just like Sadié. "With UNHCR we created a special fund to purchase tricycles, trolleys, and crutches for children with reduced mobility like Sadié. So far, we have assisted six children in Djabal camp and four children in Goz-Amir camp," says Woura Mailabele, JRS Child Protection Focal Point in Goz-Beida.