CAR: Contributing to the education of children from early childhood
16 October 2020
|

Mélanie, JRS pre-school teacher in Central African Republic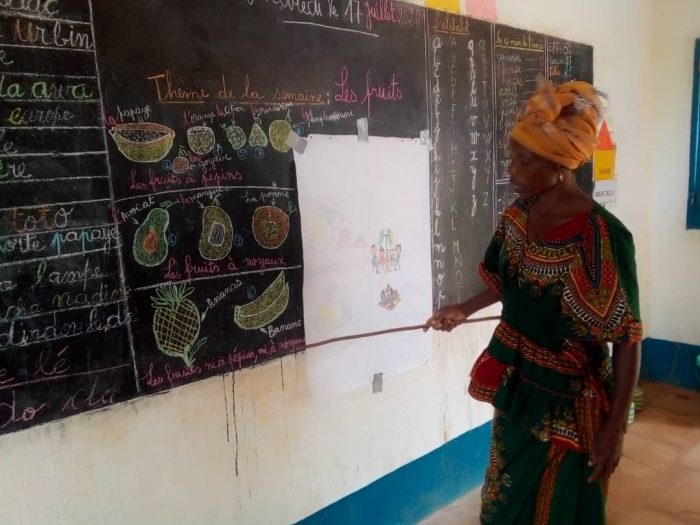 Mélanie, 49 years old, used to sell fruits in the market in her hometown of Bambari, in the Central African Republic. She was trained as a preschool teacher when JRS launched their preschool education project in the area in 2016, and has been working with us since then.
The rewarding part of my job is to have the joy of contributing to the education of the children of my country from early childhood. I am very happy to see these children start the first lessons of learning by my side and grow up to go even further.
I am happy to be among those participating in building a better future for my country and I am also very satisfied with the number of girls who are enrolled in preschool; step by step, there are more girls than boys. Last year in my class I had 26 girls and 23 boys. This is very encouraging!
Covid-19 has delayed our work. With the children being at home, we were not able to continue our education program as before. This pandemic blocked everything and life itself became difficult.
I was lucky enough to be part of the Radio School team [of l'École à la Radio] in the program launched by JRS with the support of Education Cannot Wait (ECW). It helped to manage this crisis and continue to teach many more children than usual. I was used to teaching 40 to 50 kids, but with l'École à la Radio, I taught a few thousand. I think this program has helped me personally to flourish as a teacher and still feel useful to little children in the midst of the Coronavirus crisis.
In my opinion, education is very important because it shapes the conscience and helps to train people to become useful to society. Education helps to develop the country. By reducing the illiteracy rate, we will have fewer problems because people will be trained to respect life and the community.
In general, preschool is very neglected in the region. The state has not yet developed a good support system for preschool teachers. Most receive little or nothing from the state. As a result, many prefer to find other activities or work in private schools.
As a teacher, I encounter some challenges, such as when the pedagogic kits for the preschool training centre disappeared. Additionally, some parents don't pay the school fees to support the teachers and, more than one time, I have been insulted by the parents who didn't want to pay and who aren't aware of the importance of preschool education.
Communities must understand and recognize that we [preschool teachers] bring a lot to the education of their children. This training process begins in early childhood and the community must understand that education is everyone's business and not just teachers.
In the future would like to have adequate teaching materials. In my school, there is a lack of appropriate material for children's games; we need it for a better development of children in play areas. Preschool teachers need to be trained to take better care of children too. My school and other preschools are not secure and are vulnerable to theft. We would like to have a fence made of durable materials for added security, not just one made of planks or bamboo.