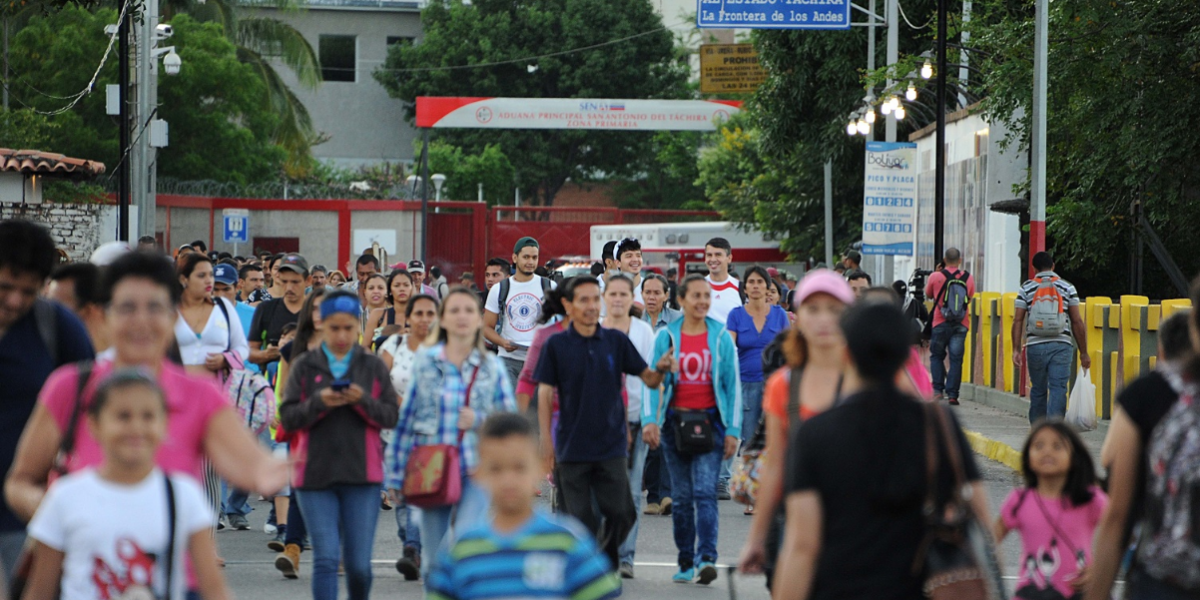 Santo Domingo – Civil society organisations, including the Jesuit Refugee Service Latin American and the Caribbean (JRS LAC) and the Jesuit Refugee Service Colombia, held an audience on May 11th, 2018 before the Inter American Commission of Human Rights (IACHR) to request better coordination and assistance for States in the region to address the ongoing Venezuelan migrant crisis.
Read the full press release from the audience below:
Santo Domingo, May 11, 2018 – Nearly 30 civil society organizations from across the Americas requested today in the Inter American Commission of Human Rights better coordination and technical assistance for States in the region to address the Venezuelan migrant crisis.
Venezuelan migrants in Latin America, and the Dominican Republic is no exception, are in a vulnerable situation
Ana María Rodríguez, a Venezuelan migrant living in the Dominican Republic
Ana María continues, "we don't want to be given anything we can obtain with our own effort. But we do want a concrete plan of action, with appropriate judicial processes in accordance with due process and the law, that don't include arbitrary detention and deportation. We want to make it clear that if we could, we would return to Venezuela, but that is not possible now and it won't be in the near future."
In the last two years, it is estimated that 1.2 million Venezuelans have emigrated from Venezuela due to the crisis, the lack of security, and the scarcity of medicines. By January of 2018, according to the UN High Commissioner for Refugees (UNHCR), 133,574 Venezuelans had applied for refugee status, and 350,861 sought alternative migratory status throughout the Americas and Spain.
The current political and economic crises, caused by the absence of the State, are key drivers the current Venezuelan migration. However, this situation will not have an immediate solution, even if there is a transition in the government
Ligia Bolivar, Centro de Derechos Humanos de la Universidad Católica Andrés Bello (UCAB)
"Our region is not equipped to deal with this migratory phenomenon. Moreover, it has been predicted that, after the election on May 20, there will be another spike in Venezuelan migration," said Francisco Quintana, Director of the Regional Program for the Andes, North America, and the Caribbean at the Center for Justice and International Law (CEJIL). Given this context, the petitioners indicated that the countries of Latin America and international organisations need a concrete and clear plan of action that guarantees the highest standards of protection for migrant, refugee, and asylum seekers' rights, as well as economic, social, cultural, and environmental rights.
Furthermore, the petitioners provided further analysis on the context and risks faced by Venezuelan migrants in different countries, highlighting the situation of women and children and the lack of access to documentation and education in Colombia and Ecuador; the militarisation of borders and the return of migrants in Brazil, Colombia, Ecuador; trafficking, human trafficking, forced and sexual labor, and slavery on the border of Brazil and Ecuador, the system of regularisation and visas of Venezuelan migrants in Chile, Central America, and the Dominican Republic, among other points of concern.
The percentages of denial and non admission of refugee status applications are too high. For example, in Colombia, of the 2,073 applications for refugee status, 57 have been approved; in Ecuador, of the 2,322 applications, 6 have been admitted to the process. This trend, which has been seen in nearly all countries, sheds light on the need to provide special, effective and lasting protection
Guillermo Rovayo, Misión Scalabriniana in Ecuador
Given this context, civil society organisations requested that the IACHR make a call for the region to come together to develop a concrete action plan that focuses on increasing the depth and reach of the Global Compacts on Refugees and Migration; use the existing Coordination and Timely and Integrated Response Room (SACROI) Venezuela to 1) monitor the Venezuelan migrant situation, 2) collaborate in identifying the dimension of the problem; and 3) provide technical assistance to States to incorporate a human rights focus; and work with the UN Special Rapporteur on the human rights of migrants.
Organisations:
Centro por la Justicia y el Derecho Internacional (CEJIL), Servicio Jesuita a Refugiados para Latinoame´rica y El Caribe (SJR LAC), Red Jesuita con Migrantes para Latinoame´rica y El Caribe (RJM LAC), Asylum Access, Amnisti´a Internacional, Washington Office on Latin America (WOLA), Centro para la Observacio´n Migratoria y el Desarrollo Social en el Caribe (OBMICA), International Institute on Race, Equality and Human Rights, Programa Venezolano de Educacio´n-Accio´n en Derechos Humanos (PROVEA), Centro de Derechos Humanos de la Universidad Cato´lica Andre´ Bello (CDH UCAB), Vicaría de Derechos Humanos de Caracas, Comisión de Justicia y Paz de la Conferencia Episcopal de Venezuela, Asociacio´n Civil Movimiento Vinotinto, Consultori´a Para los Derechos Humanos y el Desplazamiento Forzado (CODHES), Secretariado Nacional de Pastoral Social Ca´ritas Colombiana, Servicio Jesuita a Refugiados Colombia – SJR Colombia, Conectas Direitos Humanos, Servic¸o Jesui´ta a Migrantes e Refugiados-SJMR Brasil, Misio´n Scalabriniana Ecuador, Encuentros-Servicio Jesuita de la Solidaridad, Comisio´n Argentina para Refugiados y Migrantes (CAREF), Cli´nica Juri´dica de Migrantes y Refugiados del Centro de Derechos Humanos de la Universidad Diego Portales, Sin Fronteras IAP, Asociacio´n de Consultores y Asesores Internacionales (ACAI) y Living Water Community.