Witnessing asylum seekers' hope and resilience at the US/Mexico border
01 March 2023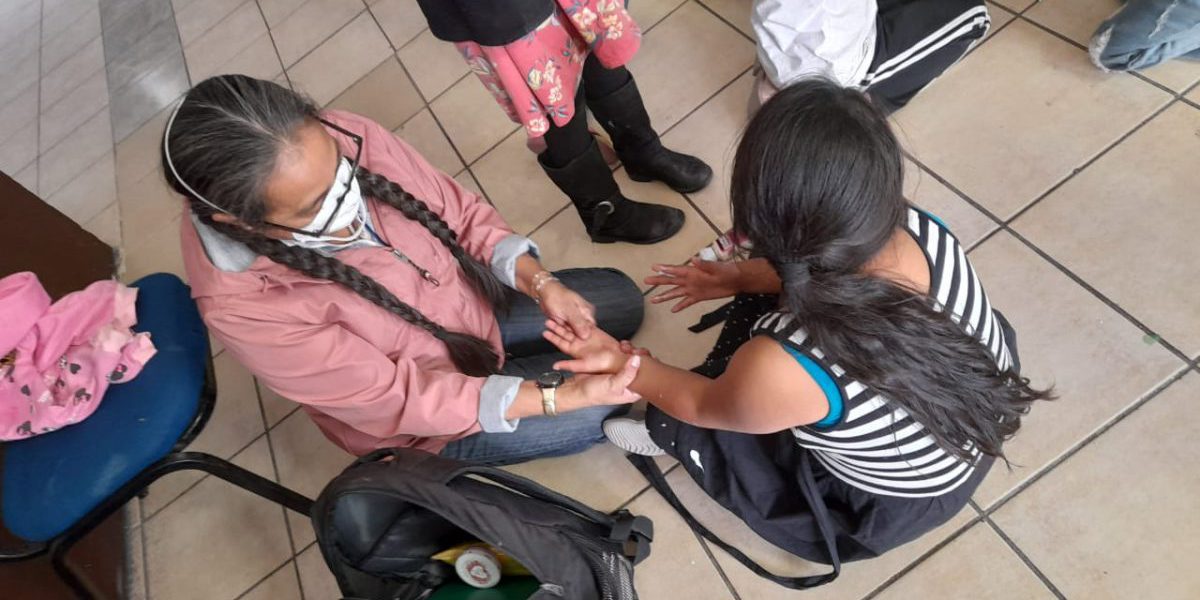 "They are the givers, and we are the receivers." Maria Torres quotes a colleague to describe her relationship with forcibly displaced people: a mutual exchange of trust, friendship, and hope.
Originally from Guatemala, Maria has been working with refugees, asylum seekers, and migrants in the United States of America for years. At first, she admits, she thought refugees "perhaps were broken or damaged." Instead, she soon discovered they are "so strong, so inspiring."
A psychologist, anthropologist, and Doctor of Interdisciplinary Health, Maria joined JRS in November 2020. She currently serves as Director, Domestic Programs, overseeing Mental Health and Psychosocial Support (MHPSS) projects and implementing activities.
Working across the border
The United States of America and Mexico share a border of over three thousand kilometers. El Paso, Texas, where Maria is based, is one of the most trafficked points of entry – especially for pedestrians. The people currently arriving in El Paso crossed much of the American continent seeking protection from conflict, violence, human rights violations, persecution, and natural disasters.
In 2020, the pandemic dramatically changed JRS's work in the area. In March, the US government approved Title 42, a public health rule intended to stop the spread of Covid-19. Its implementation ended up preventing almost anyone from crossing the border and applying for asylum.
"We had large numbers of people either remaining on the Mexican side, waiting for the situation to change, or people who tried to enter the United States, but because of the policy, were immediately expelled," Maria remembers.
To better serve people on the move, JRS began working cross-border between El Paso (US) and Ciudad Juarez (Mexico), where those expelled or refused entry were left waiting. As the situation unfolds, with a Federal judge's order to block the policy being delayed by the Biden Administration, asylum seekers remain in need of help.
Finding resilience
To support stranded families and individuals, Maria works in shelters on the Mexican side of the border. She organises mental health and psychosocial as well as recreational activities for groups, trying to brighten up their day. She also supports individuals through "one-on-one conversations."
Thanks to her studies and experience, Maria knows how to translate clinical psychology's tools into cultural appropriate ones. "There is a lot of stigma about mental health everywhere," she admits. Instead of labelling her work as psychology, she asks people how they are feeling, what they need, and helps them understand their emotions and thoughts.
Maria's personal and professional interest focuses on resilience and mental well-being in displacement: "I have learned from experience that there is a lot of that," she affirms. Maria observed that acknowledging the positive can be an effective tool for empowerment. Her work, then, is "to identify and highlight the strengths and resilience" of the people she meets.
"I am not trying to ignore the circumstances," Maria explains, "all the wounds that they bring, all the problems that they have faced or the injustice and inequality." And yet, she also wants them to see "how much they can give and how much they can overcome." Focusing on this helps forcibly displaced people recognise their own strength and find new hope for the future.
I am not trying to ignore the circumstances, all the wounds that they bring, all the problems that they have faced, the injustice and inequality.
Maria Torres, JRS USA Director of Domestic Programs
Witnessing hope
Forcibly displaced people have dreams and hopes like everyone else. Maria knows this well: when she prepares an activity, people wait eagerly for her and look forward to the time spent together – that, in her eyes, is hope.
Yet, in displacement hope is often hidden away. Maria remembers a man she met at one of the shelters. One day, following a group activity, the man approached her and told her he was very grateful, because he hadn't laughed in weeks. As the only Haitian in the shelter, he suffered the language barrier and felt very lonely.
"Because we had so much fun with the activity you organized and I feel the difference, I wanted to talk with you," he said. Then, he opened up and told Maria of his journey. While in the jungle he had been assaulted, but he had never disclosed that to anyone.
Maria was touched by that first encounter. She kept thinking about how little she had given him: a laugh. And yet that laugh had turned into trust and hope – for both of them. The episode keeps reminding her that every small gesture matters, because "you never know the difference you can make."
In displacement, it is easy to lose sight of hope. Yet forcibly displaced people's dreams – for safety, a better life, their kids' future – are what keeps them hopeful. Maria's work is to bring those dreams to the forefront, so they can continue to have hope for a better future.