The peace-building power of art for refugees in Jordan
22 June 2023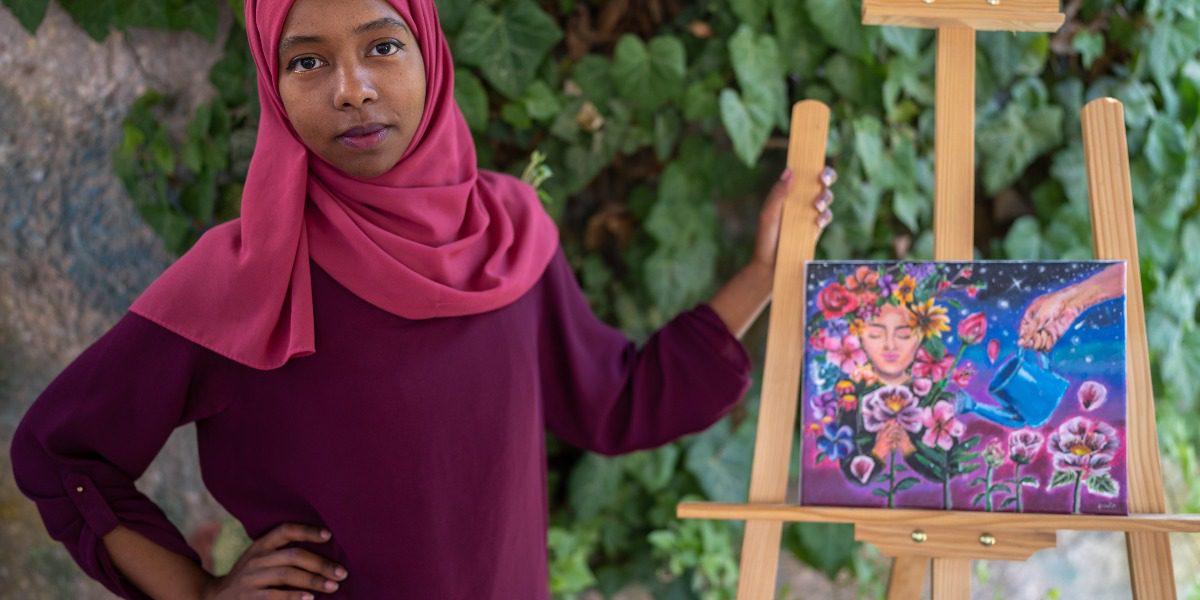 "I believe that art is an effective tool for conveying messages and delivering the voice of the voiceless," says Fowza*, standing next to her beautiful artwork. Her relationship with art began as a kid when she used to paint as a hobby. Then, from a passion, painting became a means to express herself. It acquired therapeutic power.
"Art helps me to organise my thoughts, communicate my message, and to connect with other people"
Fowza, refugee painter and intern in the Communications and Advocacy department of JRS Jordan
Originally from Somalia, Fowza was forced to leave her homeland at the age of 16 because it was no longer a safe place to live and grow up. Together with her family, she moved to Jordan, where she started to collaborate with JRS.
Through her drawings she portrayed the stories of refugees and inspiring messages of solidarity, resilience, and hope. With the desire to share the power of art with others, Fowza became a change-maker, starting to run art workshops for JRS and other organisations in Amman. Fowza played an important role in the setting up of the JRS Jordan Art Club, a group of talented artists from refugee communities. She now collaborates with JRS Jordan, facilitating the discussions of the JRS Committee, a group of representatives from refugee communities that joins JRS's mission of advocating for refugees and the most vulnerable.
For Fowza, art is a tool to spread a message and is part of her commitment to serve the community, call for change, and contribute to making the world a better place. On the 23rd and the 24th of June, 2023, Fowza, will be among the artists participating in the Festival of Encounter , organised by JRS in collaboration with UNESCO Jordan in Amman to portray the cultural and artistic expressions of the communities JRS serves.
The Festival of Encounter is an opportunity for refugees, migrants, and local communities to foster intercultural dialogue and to build bridges of mutual understanding, empathy, inclusion, and solidarity between all members of our society.
*name of fantasy to protect the identity of the person