Rekindling Syrian refugees' hope for the future in Lebanon
16 December 2022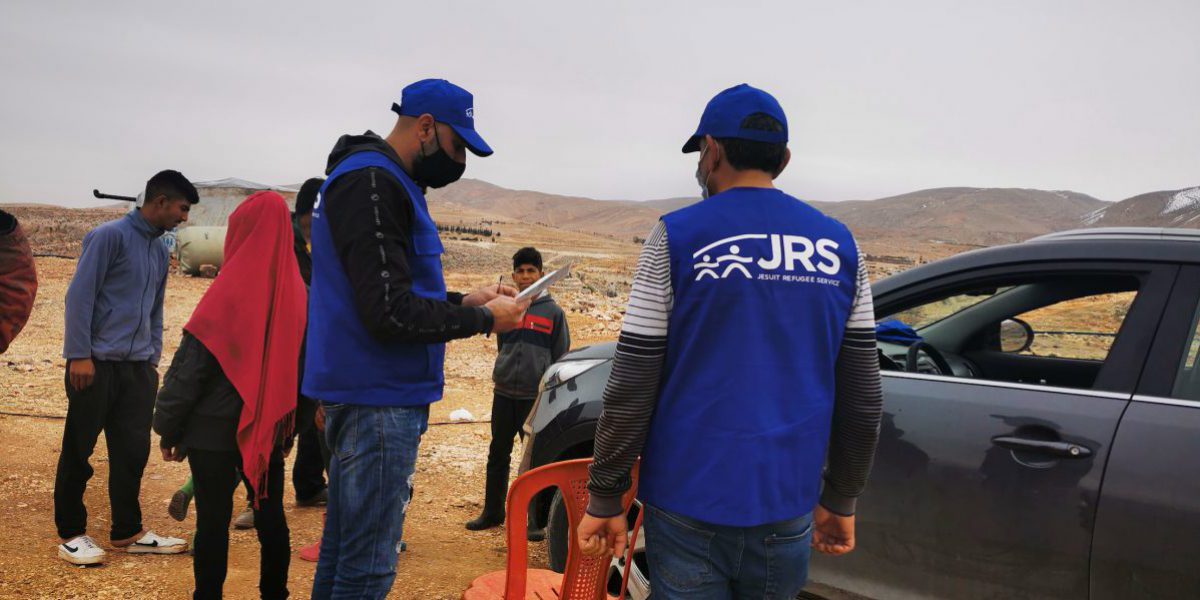 In February and March 2022, Lebanon was hit with an unprecedented wave of snowstorms and extreme cold weather. Temperatures dropped below zero degrees Celsius for several days, snow accumulated in various regions, and certain roads were completely closed due to severe snow and ice.
At the same time, the fuel crisis, a result of Lebanon's economic collapse, meant diesel shortages and price hikes, which contributed to long periods of electrical backouts. Hyperinflation resulted in most residents being unable to afford basic items, with 54% of Lebanese and 88% of Syrians living below the poverty line and in need of assistance.
The compounded difficulties significantly increased families' vulnerability during the winter months. In this context, JRS Lebanon's top priority became emergency diesel and food distribution for families to meet their most critical survival needs in the locations of Bar Elias and Baalbek.
Food distributions in Bar Elias
Many Syrian refugee families live in the region of Bar Elias, Bekaa Valley, due to its proximity to the Syrian border. JRS Lebanon manages several projects to help refugees and host communities, including mental health and psychosocial support (MHPSS), protection, emergency-response, and education programs.
One of the schools of the area, Telyani school, provides formal education to almost 450 refugee students living in nearby informal settlements. The past winter, the challenges of affording daily expenses exacerbated the health of those residing in tents. Mothers struggled to cope with the stress and anxiety related to the food uncertainty. In some cases, children went days without eating.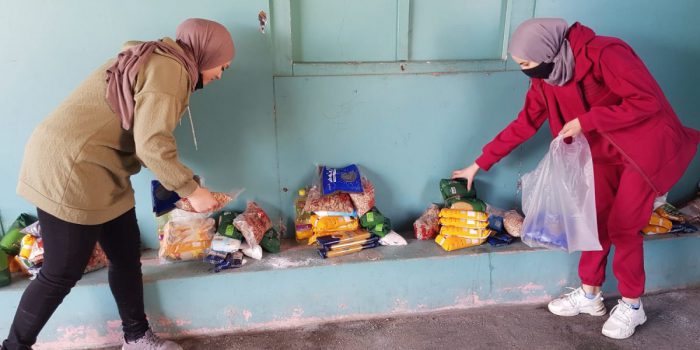 Food distribution for families in need in Bar Elias.
"We are urgently in need of food distributions that can provide food for a longer period of time for our children in light of the absurd cost of living, when the simplest things, such as sugar, oil, and bulgur, became very expensive and impossible to acquire," said the mother of a Telyani student.
In response, JRS began distributing food baskets to families residing in the nearby camps. Rice, bulgur, chickpeas, beans, pasta, salt, sugar, oil, and tea were among the essential ingredients provided in each basket.
The distributions, originally planned for February, were unfortunately delayed to the end of March due to issues in accessing affordable diesel. The families, however, responded very favorably and saw the food as a blessing for the beginning of the holy month of Ramadan. They accepted the gift and thanked the staff in return: "it will be repaid to you with blessings and goodness".
The food baskets helped to ease the stress of parents a little. A mother commented: "it helped me tremendously. I can buy milk and diapers for my children now. "
We are urgently in need of food distributions that can provide food for a longer period of time for our children in light of the absurd cost of living.
Mother of a student of the Telyani school
Supporting Families in Baalbek
The Nahle camp, in the Baalbek area, was founded ten years ago by Syrians displaced by the war. Initially, a lot of people arrived, but due to the logistical difficulties and life obstacles that they faced, residents quickly dispersed to nearby locations. Currently, ten old tents are occupied by 12 families with their children.
The camp is practically uninhabitable due to the absence of living essentials such as water, electricity and sanitation. Food and shelter are in short supply, and the high cost of life and economic collapse have made circumstances worse. The most basic needs of clothing and nourishment are always required.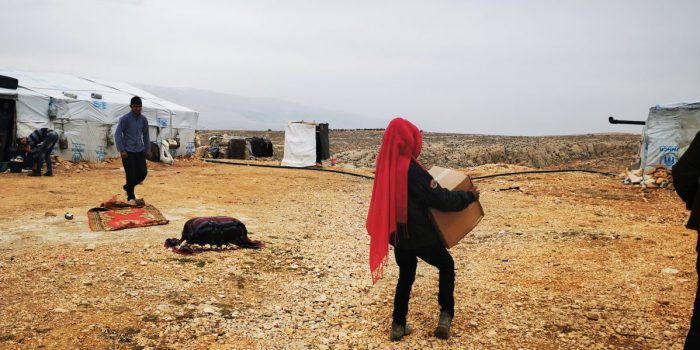 In Nahle, families live in difficult conditions which are made harder by harsh winter weather.
The past winter, JRS Lebanon was able to deliver food baskets and a heating fuel voucher to the families living in Nahle camp. Amongst the residents of the camp is Mohamed*, a Syrian child raised by his grandmother: he has been living here since 2012 and he has not been to school yet.
Mohamed was pleased with the food basket, particularly the cheese, which is his favorite. As soon as he received his food ration, he began happily devouring it. He told JRS staff: "I am extremely glad; cheese is my favorite food. I wish I could eat labneh (Lebanese Yogurt) and cheese all the time. I rarely get it".
Mohamed is one of many examples of refugee children struggling from hunger as a result of the unprecedented economic crisis in Lebanon, whom JRS is committed to accompanying.
Lebanon faces many challenges, and we see the impact of poverty on the people we assist every day, with growing needs in Mental Health, Education, and Livelihoods. Recently, a cholera outbreak was detected, threatening the lives of many vulnerable people of many nationalities.
This winter, too, people in Bar Elias and Baalbek will need extra support, and we remain committed to accompanying, serving and advocating for Syrian refugees and host communities in Lebanon during these challenging times.
 *Names have been changed for privacy and safety.