Planting seeds for the future: livelihoods opportunities for IDPs in Cameroon
18 July 2022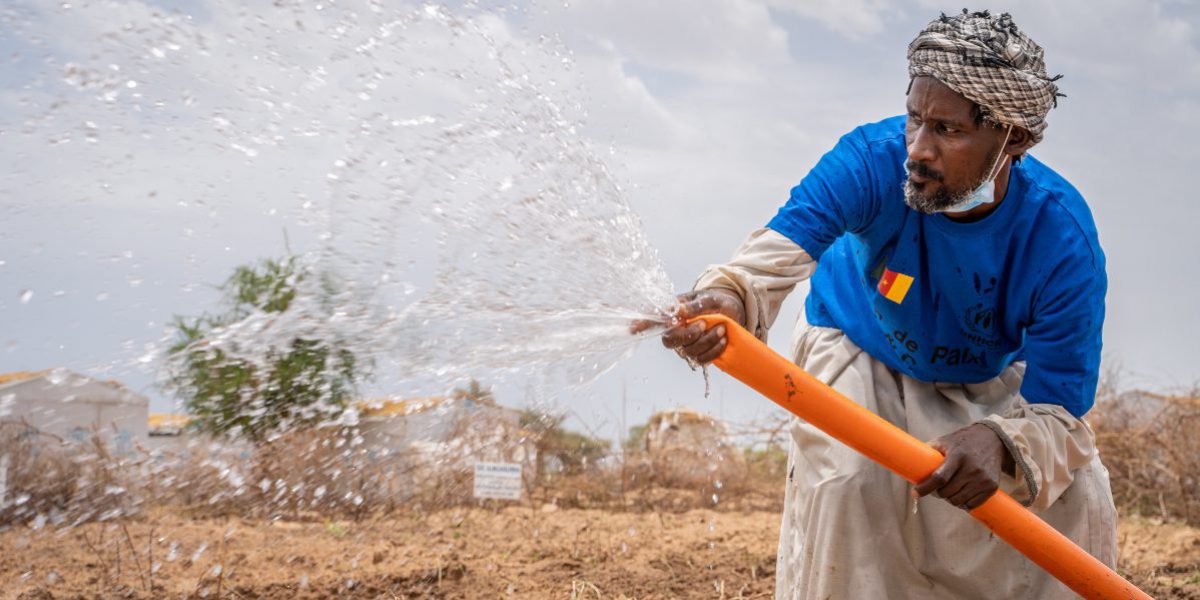 "The land there is black, not like this one. We used to grow only rice and mile. This land is good for other plants: potatoes, manioc, maize…"
Hala Said, 64, is a community leader in the Ardjaniré site for internally displaced people (IDP) in Cameroon. In early 2022, Hala fled his village due to violence and relocated with his nineteen relatives in the Bogo area. From there, they moved to the IDP camp where they currently live.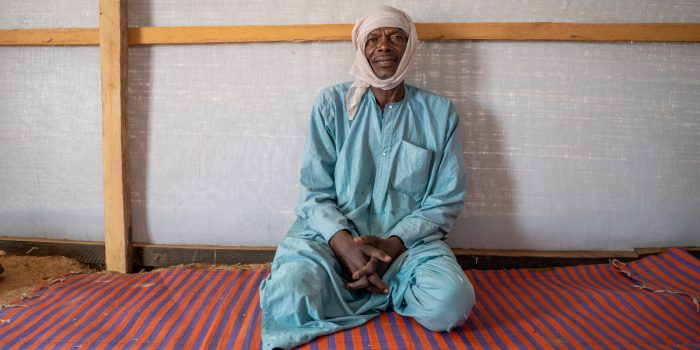 Hala Said in his tent in Ardjaniré camp for internally displaced people.
Like Hala Said and his family, more than 2,000 IDPs found refuge in the Ardjaniré camp. Most of them were forced to leave their homes due to the on-going violent clashes between fishermen, herders, and farmers in the Far North Region of the country.
One of the leading causes conflict is the scarcity of resources, particularly water, linked to climate change. In displacement, making ends meet continues to be the main concern for Hala and his family. Back home, he was a fisherman. He worked with his son and was able to provide for his family. "Now, we have nothing. We only live with the rice and beans that the NGOs give us," he laments.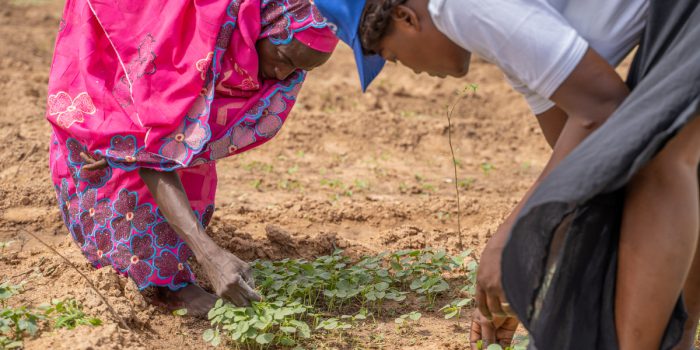 IDPs working in the new vegetable garden.
To support internally displaced people in Ardjaniré, the Jesuit Refugee Service (JRS) opened a communal garden in partnership with UNHCR Cameroon. The project aims to enhance the food and livelihoods resilience of IDPs by planting 1,800 trees and opening a vegetable garden.
As a community leader, Hala is excited about the project: "[The trees] will give us shade, mangoes, and other fruits. The community will benefit from the vegetable garden too. It will feed people." Additionally, the garden will allow IDPs to learn new agricultural techniques that they will carry with them wherever they will go next.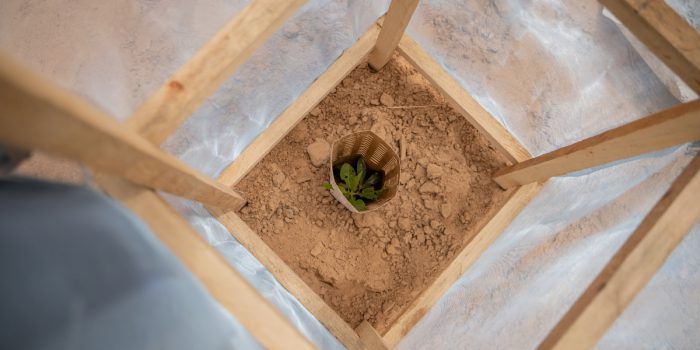 Planting new trees will result in increased food and livelihoods resilience for IDPs.
The trees will give us shade, mangoes, and other fruits. The community will benefit from the vegetable garden too. It will feed people.
Hala Said
Maimouna is a 41-years-old woman and mother of six. Her family, too, was forced to flee. They had to leave in a hurry: "I left the pot on the fire without having time to finish preparing food" Maimouna remembers.
Now safe in Ardjaniré, Maimouna recalls those moments as incredibly painful. She knew she was not only leaving her house behind: "There is a big difference between before and after. I lost a lot, and my children lost their education."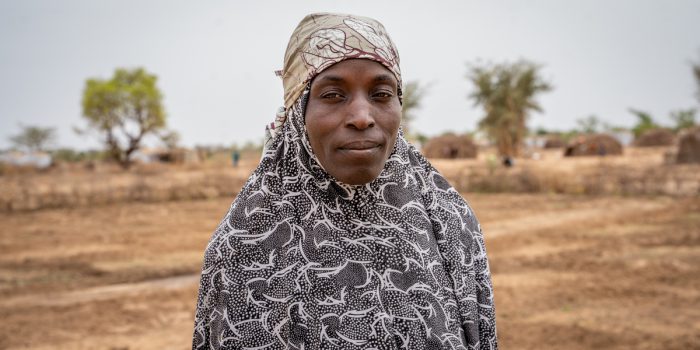 Maimouna, community focal point for the vegetable garden in Ardjaniré.
In displacement, most of Maimouna's children stopped going to school because the family could no longer afford fees and supplies. Unfortunately, few families in the camp can afford to send their children to school. Instead, they keep them in the house to help with chores – especially girls.
Looking for opportunities for herself and her children, Maimouna joined the gardening project as a beneficiary and community focal point, facilitating communications between the IDP community and JRS.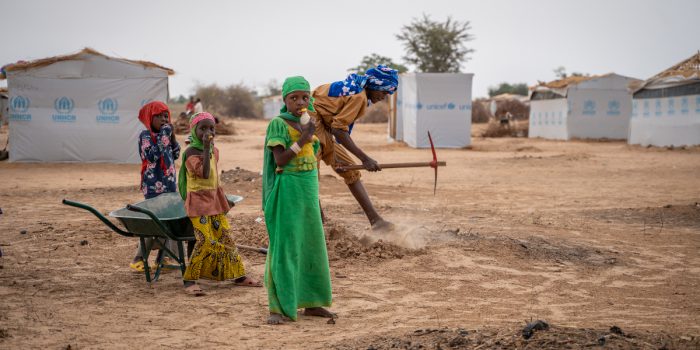 Most children in the camp do not go to school, instead they help with house chores.
Working alongside eight other women, Maimouna is now growing okra, chili, and other vegetables in the JRS garden. Thanks to the garden and a new sewing machine, she has turned hopeful: "We will use the vegetables and sell them to get some money. It will change our lives."
In the future, Maimouna, would like the project to expand. She would love to have her own piece of land, too. "As a displaced person, I have no land. With the rainy season coming soon, I would like to have a plot of land to better provide for my family."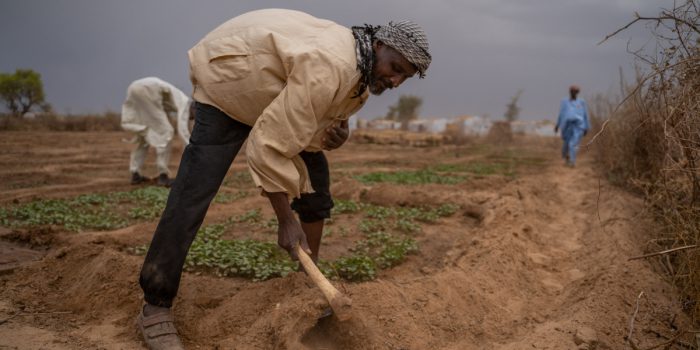 One of the beneficiaries of the project tends to the vegetable garden.
Unfortunately, expanding the project will not be easy. As of now, the Ardjaniré camp does not have enough wells to provide water for more gardening and other basic needs. Yet, families like Hala's and Maimouna's rely on these additional sources of food and income to be able to their meet their daily needs and send their children to school.
We need to keep investing in new wells and resources to provide more livelihoods opportunities for forcibly displaced people in Cameroon.
Internal displacement in Cameroon is one of the many forgotten situations around the world. Learn more about other neglected crisis.