Meet Ahmed: refugee community leader and conflict resolution worker in Ethiopia
31 October 2023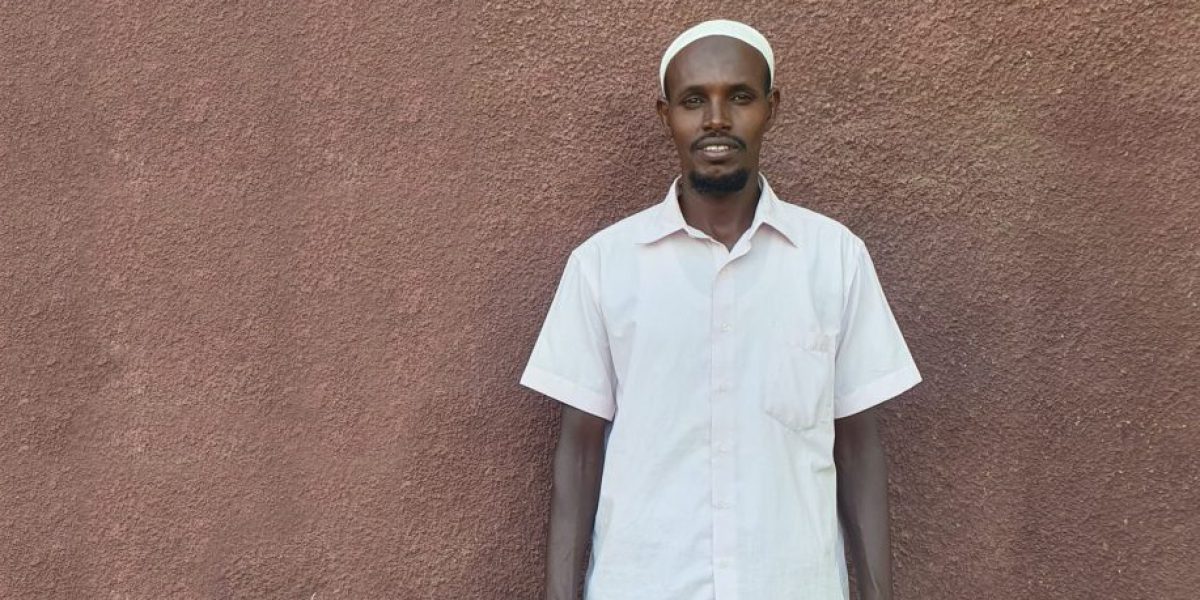 Ahmed is 38 years old. Thirty-eight years of struggle, hope, hunger, and thirst. Born in Mogadishu, Somalia, he lived there with his family, where he attended school until the war in Somalia no longer allowed him to live a peaceful life.
I saw with my own eyes teenagers like me, killed just because they were young and wanted to have a peaceful life. You had to choose sides, you either took up arms, or you were chased out of your town
Ahmed, community leader and conflict resolution worker
His only option was therefore to flee like his friends and cousins. After his mother ordered him to escape by giving him only some pocket money, he embarked in his journey to Yemen.
"The journey was tough. Entering a country irregularly with a smuggler carries many risks, such as being arrested, or having to navigate the local political and security dynamics. Some clan-based communities have largely self-governing bodies and provide their own rules and regulations, and are always sceptical of outsiders, particularly young men, who try to pass through territories under their de facto control."
Ahmed arrived in Marib refugee camp, in Yemen, with the hope of starting a new life. There he met the woman who is now his wife. He lived day by day, struggling to obtain permanent resident status in the country so that he could live outside the camp and have a normal life with his family.
When the war broke out in Yemen, Ahmed had to move again. This time, he went to Ethiopia, walking with his newborn child and his wife the same route he walked alone eleven years before. "We went through hell together with my family to get to Ethiopia."
After arriving in Ethiopia, he went to Sheder refugee camp, a few kilometres outside Jigjiga. He then moved to Dollo Ado refugee camp. In Ethiopia, Ahmed met JRS by participating in training to become a reconciliation and social cohesion worker, which enabled him to adequately provide for his family.
"The reconciliation training conducted by JRS helped us to combine traditional methods of conflict resolution with modern ones, depending on the level of conflict and the issue. Before, we simply decided who was wrong and who was right, going straight to punishing one side or the other. Now we do not just settle the issue but work to make these communities closer to each other."
In Melkadida, Bokolomayo and Kobe refugee camps, JRS organises seminars and trainings with community leaders, youth associations, women's associations and other groups, helping refugees to introduce themselves to the local communities, but also to promote the programme to the different communities.
Now we do not just settle the issue but work to make these communities closer to each other
Ahmed, community leader and conflict resolution worker
"Before I met JRS, in our refugee camp I was one of the focal persons for refugees, however, we used traditional methods of conflict resolution, and these methods sometimes worsened the gap between the refugees and local communities. We would simply intervene in the middle of the conflict, which only inflated it further, both sides opposed the change, and this increased the communication gap between them. Moreover, it was impossible for refugees to have a peaceful life with the local communities since they did not have a representative. It was impossible for them to express their thoughts or problems to the local communities and the local administration. Now, the Refugee Central Committee (RCC) is the main point of reference for the refugees, so whenever there is a conflict between the locals and the refugees, the RCC organises meetings between community leaders and clan leaders to sit together and talk and solve the conflict."
Ahmed concluded, "I believe that to resolve a conflict we have to keep peeling back the layers to get to the core of the issue; therefore, resolving a conflict is just like peeling the onion, only by peeling layer by layer can we discover what the core of the cultural dispute is."
*this story was originally published by JRS eastern Africa