Lebanon: What is safety?
31 May 2019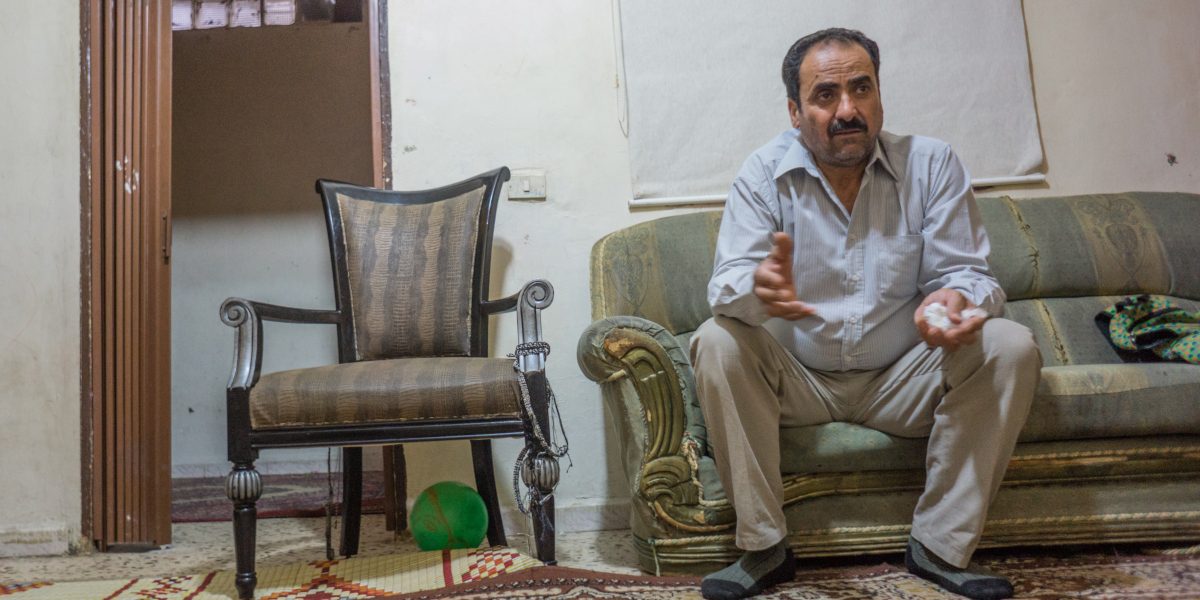 Beirut – The Jesuit Refugee Service (JRS) has implemented a new monitoring and evaluation technique, Most Significant Change (MSC), which focuses on the outcomes and impact of our services through stories of change. MSC enables the invaluable stories and experiences of refugees to shape their futures and improve the work JRS is doing. It allows us to accompany refugees on their journey, walking beside them and hearing their stories.
At a recent MSC workshop in Lebanon, Omar, a Syrian refugee, reflected on the impact JRS's services had on his life.
We woke up one day to complete chaos. Everyone was confused. I raced to the balcony and saw people running in the streets. I barely had time to gather my belongings and wake up the kids before running away with my family.
It was 2011, the beginning of the Syrian War.
We started looking for shelter, traveling from village to village, staying with relatives and friends, but we could not find the safety we were seeking. We could not find protection in our own country, even surrounded by those closest to us.
After my dad passed away suddenly, I decided to move my wife and children to Lebanon. I was not confident in my decision, but it was all we could do to feel safe. I soon questioned this safety. What is safety when you do not feel at home, when you are treated as a refugee?
What is safety when you do not feel at home, when you are treated as a refugee?
Omar, JRS Most Significant Change Participant
I struggled knowing the people of my country lost everything. I often considered the pain they went through, the death they escaped, and the struggles they encountered away from their home. What is safety when you don't feel you belong anywhere, when you have no choice, and no power to help anyone around you, not even yourself? I think this is when I started realizing that I was entering a form of depression. There was no security, no care, and no stability in my life.
During this time my wife came to me and told me she had breast cancer. I was in shock, but I used the news to muster my strength because I am the man of the family and it is my duty to support my wife. I put my weaknesses and concerns aside to stand by her side. When my wife started feeling better and responded to the treatment, I suddenly collapsed, as all my defenses went down. I lost hope in life. I lost hope in humanity. I lost hope in myself. I had nothing to live for anymore.
My depression took me to the verge of suicide. It was then that I found JRS, and after relaying my story, I was referred to a psychiatrist who prescribed me the appropriate medication and a psychologist who is helping me get better. The psychologist still follows up on my case and accompanies me with kindness.
At long last, I believe I have found the purpose of my existence. At times I feel down, and sometimes I regain hope, but, thanks to JRS, I am aware that I have mental health issues.
Many refugees' struggles do not end when they seek safety in a new country. Forced displacement can disrupt relationships and practices that foster resilience and healing in individuals, families, and communities. In the wake of such disruptions, displaced persons may require additional psychological and social support as they adapt to new, unexpected circumstances. The psychosocial programmes provided by JRS aim to strengthen community and family supports through emphasis placed on building hope, restoring human dignity, and strengthening social cohesion. Read another story of MSC here.