Chad: teachers driving awareness around COVID-19 within refugee communities
11 May 2020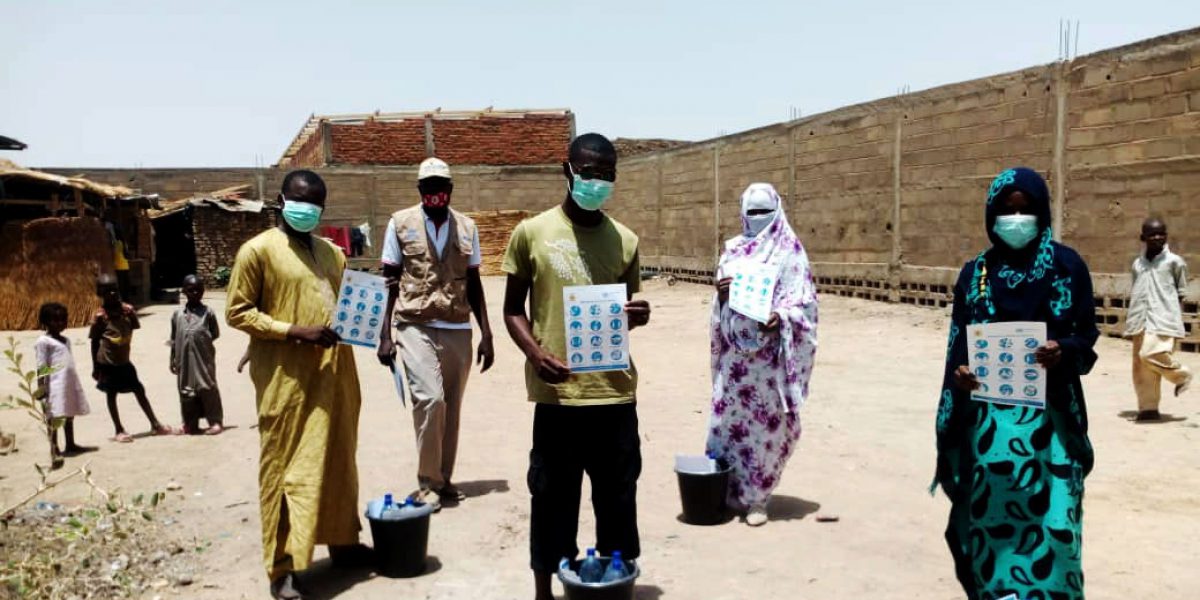 Students are no longer singing into class, nor lessons being written on blackboards. With 170 reported cases of COVID-19 and 17 deaths – according to the World Health Organization on the 6th of May 2020 – Chad remains closed, like most of the international community, to curb the spread of the pandemic. The Chadian school year starts in October and finishes in late June. This year, however, the doors of the schools have been locked since the 19th of March.
The closure of education centres across the country brings new challenges to the refugee communities in the country. In mid-2019 there were over 102,000 refugee students in Chad, as reported by the UNHCR. Their academic engagement is at risk of great delay as many refugees lack a TV or radio to be able to follow the telematic classes offered by the government. Schools also serve as points of safety, reconciliation, and community awareness, so children are more vulnerable to domestic, sexual and gender-based violence, as well as exploitation, whilst they are closed.
While schools remain closed, JRS teachers are looking for ways to keep their students engaged and committed to their studies. "Every time I meet a parent in the area of my school, I remind them to ask their child to review the materials they have already learnt at school in order to be ready for their [upcoming] exam," says Abdelhamid Ibrahim Radjab, who teaches in the refugee camp of Amnabak, Iriba.
Teachers play an especially important role in raising awareness about the virus within the seven refugee camps where JRS serves. ¨We came together to raise awareness among the community. Our students are part of it, so it is important for us to spread the message,¨ says Ibrahim Isaakh, a natural sciences teacher in Djabal.
Teachers are contributing to the distribution of posters and information materials, as well as engaging with students and their families to raise awareness around prevention measures and social distancing. "I have been recommending to wash hands frequently, avoid crowds and not gather in the streets during this period," confirms Fatimé Ali Rifa, a teacher in Touloum refugee camp, Iriba.
We came together to raise awareness among the community. Our students are part of it, so it is important for us to spread the message.
Ibrahim Isaakh, teacher in Djabal refugee camp
"For the students, the closure of the schools affects their schedules, as they won't be able to finish the programme," says Abdallah Ahmat, Math teacher in Djabal refugee camp. "The community is worried; it is not sure what will happen with the future of our children. The question is when is this all going to finish?"
As JRS monitors the evolving situation, potential plans for the future are being put in place for when schools will be reopened. These include intensifying the courses to allow students to catch up and arranging for each class to include no more than 10 students. Alternatively, students may study from home in groups of three or four, and will be monitored by teachers willing to go from home to home to check what the students are doing and try to go through old materials with them.
Throughout all the uncertainties, one thing is clear: the commitment of our teachers has never wavered. "We hope that the situation gets better soon to allow the teachers and students to walk back to school. For the moment, and till the end of the pandemic, we will continue supporting our students with home-based learning," confirms Makka Abdallah Dehie, a primary teacher at Mile refugee camp, Guereda.