Chad: refugee student excels at the national BAC exam despite the pandemic
28 May 2023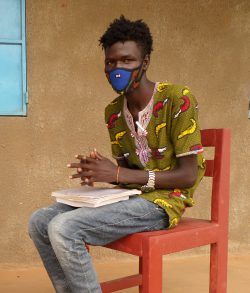 Congratulations to Ahmat Ali Abderaman, a 23-year-old refugee student living in Touloum camp, Eastern Chad, for obtaining one of the highest results in this year's Baccalauréat (BAC) exam! In the educational system of Chad, which is patterned after the French model, secondary school students have to pass the BAC exam to be able to pursue university studies.
"I considered myself as simply committed and I work hard, which is why I got these marks. I am very moved by my result and that I am finally a university student. I love Philosophy, and now is the opportunity to do a rigorous study in the subject, since it is the mother of all science," he says.
Ahmat arrived in Touloum refugee camp in his early childhood with his mother and father, who have since passed away. He has always known the importance of education and was able to continue his studies with the assistance of the Jesuit Refugee Service (JRS), in partnership with UNHCR and the support of the US BPRM.
I am very grateful to my teachers. They did their utmost during COVID-19 to ensure our success in the exam.
Ahmat, student in Touloum camp Eastern Chad
Ahmat's success at the BAC 2020 comes after a particularly challenging academic year due to the pandemic. The outbreak of COVID-19 caused the closure of schools for three months, but teachers found ways to keep their students engaged and committed to their studies.
"I was doing the research at home on my own and asking questions at the explanation sessions. I got the exercises distributed by JRS and drafted them at home," Ahmat explains. "I am very grateful to my teachers. They did their utmost during COVID-19 to ensure our success in the exam."
Ahmat sends words of encouragement to his mates who did not pass the exam and to all the candidates who will take the second session of the BAC. "The secret of success is hard work. It is necessary to stay calm, that way you will not be far away from obtaining good results. They have the chance to do it better than I did. The best thing is that JRS will always help them with school supplies."