A journey of hope and solidarity in Syria: Q&A with Gerry Baumgartner, a Jesuit Scholastic
24 October 2023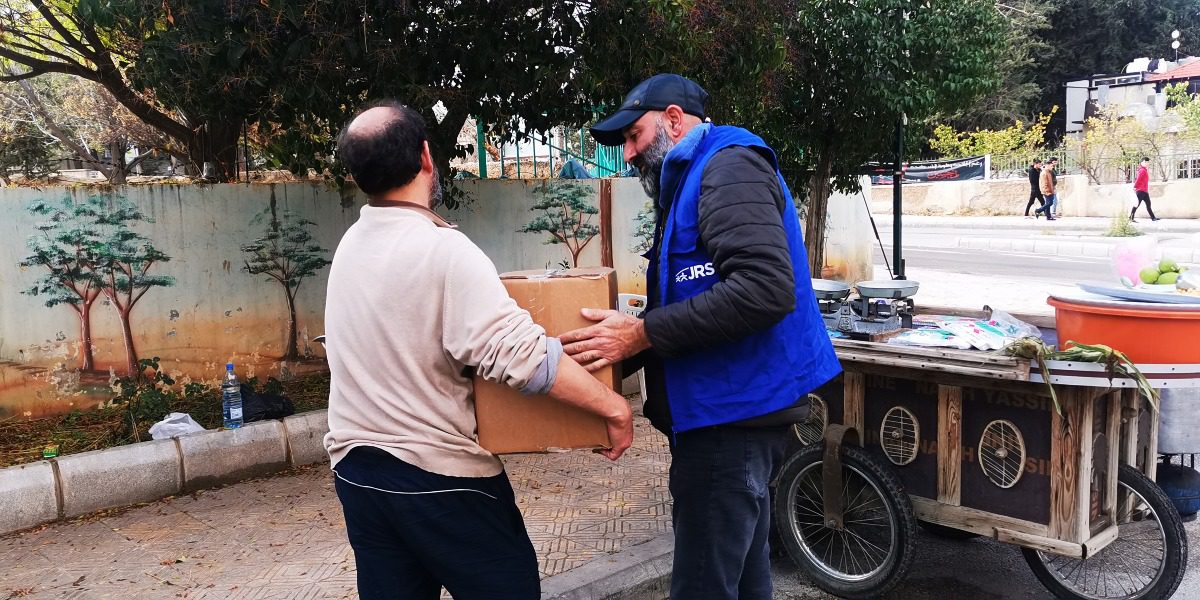 The way people react to a disaster is unpredictable and often surprising. Gerry Baumgartner, a Jesuit Scholastic from Austria, experienced it first-hand while living in Homs, Syria. He was sent to the Middle East to do pastoral work, especially catechism to children and young Christians. On 6 February 2023, his mission changed. He joined efforts with the local population, the Jesuit community, and JRS to respond to the disaster caused by the earthquakes that struck the country.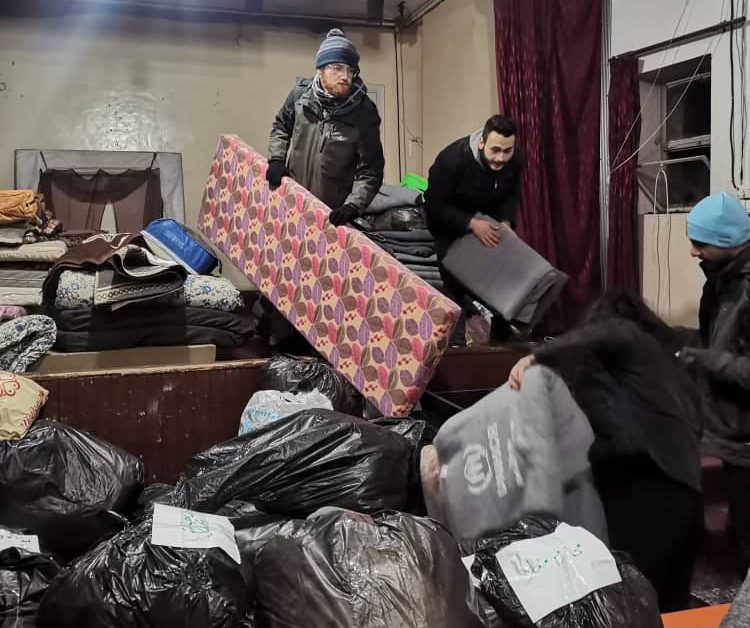 What brought you to serve displaced people in Syria? 
I was living in Homs when one day the earth shook. I personally have never experienced such a strong earthquake. It was already mid-winter and freezing, but people stayed in the streets for days for fear of further shocks. We had about 1000 aftershocks along the Turkish-Syrian border. However, Homs was the city in the northern part of the country that suffered the least damage. In Aleppo, the impact was much greater. Buildings were destroyed and many displaced people ended up in Homs seeking safety.  
The day after the earthquakes, together with some Jesuit friends and young people, we started to bring food to the first families arriving from Aleppo. In the days that followed, the numbers multiplied, and we too adapted our response to meet the new needs. In the first response phase, we would provide for the most basic needs like clothes, hygiene kits, and medicaments as well as psychosocial first aid.  
The local population immediately mobilised to offer support to displaced people. 
Yes, the most amazing thing was the solidarity of the local population. People in Homs, too, were in a very complex situation, affected by the earthquakes and by pre-existing problems, such as access to food, and lack of gas for heating and petrol for cars. However, they immediately took action, bringing what they could for the people displaced. Every day around the community there were more than a hundred people offering their time in support of those affected by the earthquakes.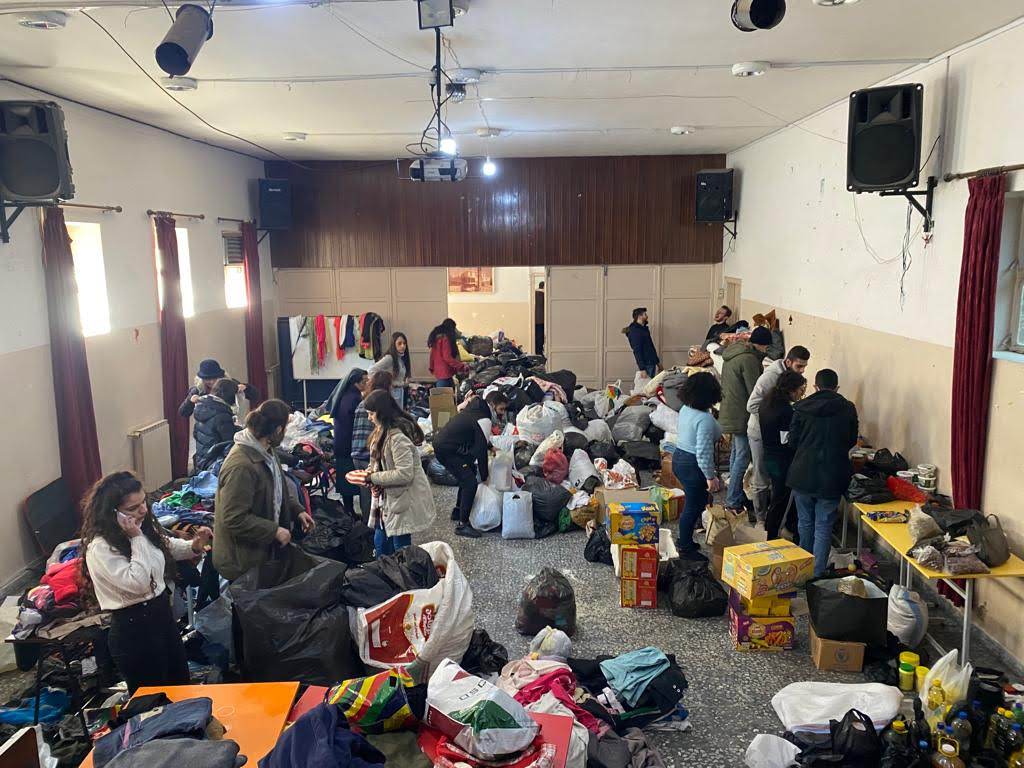 I think this is the most profound experience I have had to open myself as a person not to think for someone, but with someone.
Gerry Baumgartner, Jesuit Scholastic
What do you take away from your experience with JRS? 
I think one very powerful thing that has stuck with me from working with JRS is the way they accompany people. Walking with those who experienced disasters as part of an emergency response, being with them in these difficult moments, listening to them, and being exposed as a person to their experience, was something deeply powerful for me. JRS, in its work, tries to consider the person as a whole, with all their difficulties and needs but also their stories and hopes. I think this is the most profound experience I have had to open myself as a person not to think for someone, but with someone. 
Can you tell us a particularly transformative encounter or event that you have experienced while working with forcibly displaced persons?  
There are two encounters that particularly struck me, very different from each other but with a common thread. Late one evening we received a call from a person, so we went to the shelter where he was staying with his family. It was a very small flat belonging to a person from Homs, who had opened the doors of his house to those in need. We went inside and found a dad with his four children. As soon as we started distributing food and clothes, the man began telling us his story. When the earthquakes started, he and his children ran out of their house in Aleppo, while the mum stayed behind to try to get some supplies. The building collapsed on her. He came to Homs without knowing anyone. Once he had finished his story, he thanked us for being there and simply listening to him.  
The second encounter took place when I started working with JRS. People expressed to us the need for accompaniment and psychological support, so, we thought of an activity that could involve all the people we serve, both Christians and Muslims. At that time was Ramadan, the holy month of prayer and fasting for our Muslim brothers and sisters. We invited groups of people to participate in an afternoon event with the JRS mental health and psychosocial support team (MHPSS). After the activities, we ate together the traditional "Iftar," the Muslim evening meal to break the fast. After sharing our thoughts and emotions, we shared food together. I will never forget this atmosphere of fraternity between us. It was a good time: we got to know each other, shared food, and laughed.  
These two experiences opened my eyes. I realised that in addition to providing basic assistance, we have to go to places, to be with people. To listen to them. 
What can you tell us about the impact of the earthquake and its aftermath on people's lives? 
Now the situation is like before, but a little worse: in addition to the destruction caused by the war, there are the effects of the earthquake, both psychological and material. People have lost their sense of security. I still know people who cannot take a shower because, although several months have passed, they are still afraid that if they get in the shower the earthquake will happen again. JRS continues to walk alongside these people, not only providing emergency assistance but also trying to integrate educational, livelihood, and community-building projects to enable people to get back on their feet and start their lives again.