Claude Karwachane began working with JRS in Syria in 2010, assisting Iraqi refugees and then fellow Syrians displaced by the outbreak of the war in their countries. In 2014, she experienced exile herself, seeking refuge with some of her family in Italy for two years before returning to Damascus and her work with JRS.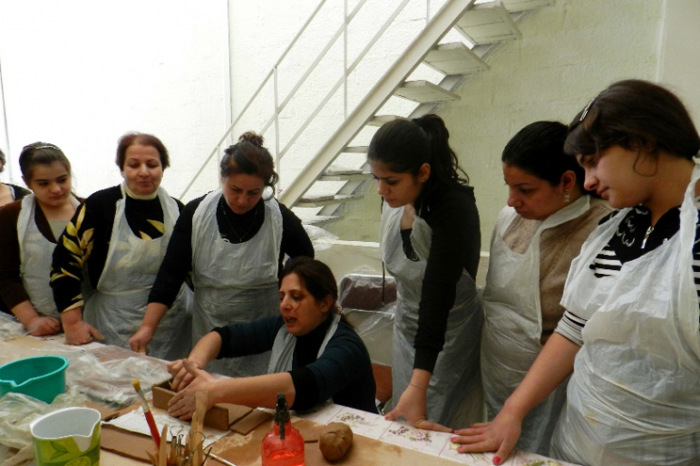 Describe your life when you first became involved with JRS.
I started serving with JRS in Damascus in 2010, when we were supporting Iraqi families who had fled the war in their country. I led pottery workshops for women, and through our practice of creativity and cooperation, we developed unforgettable friendships.
When war broke out in Syria in 2011, many displaced families started to seek shelter in the center. We tried to manage and meet people's needs, providing food, clothes, mattresses, blankets, and essential medicines.
As hard as it was, I can tell you that it was also the most beautiful and enriching experience of my life. We shared so much with each other: our sadness and joy, our courage and fear, our despair and our hope. We survived so much together, including the shadow of death.
Where are you in your life today?
Everything I am living through now with JRS in Damascus has rekindled my hope and motivated me to re-launch my workshops in rural areas outside the city. I am trying to practice my passion for pottery, hoping that, someday, I can open my own line in this craft. I am also teaching others, people who have lost so much in this war, to encourage them and help them rediscover themselves from the inside, believe in their abilities, and regain hope.
What difference did JRS make in your life?
When I went back to Syria in 2016, JRS was still opening its doors to welcome and accompany me in the most difficult circumstances in my life. The people of JRS helped me find hope, joy, and the strength to begin again. I have such deep gratitude and love for JRS. Words cannot express it. I want to serve with love and joy, I want to live JRS's mission and values, I want to share those values with all the people I meet.
JRS talks about walking with the people we serve and accompanying them on their journeys. What does accompaniment mean to you?
JRS has walked with me. I have always lived by JRS values and I now try to share them with the people I meet because accompaniment is mutual. As I am responsible for JRS staff care, I create and develop workshops that help volunteers release stress, take initiative, and express their creativity. I am strengthening them, so that they can support and strengthen others. We are creating a better future and a better life. Together.
Read more testimonies of our partners and companions here.