40 years of accompaniment: André Atsu
09 December 2021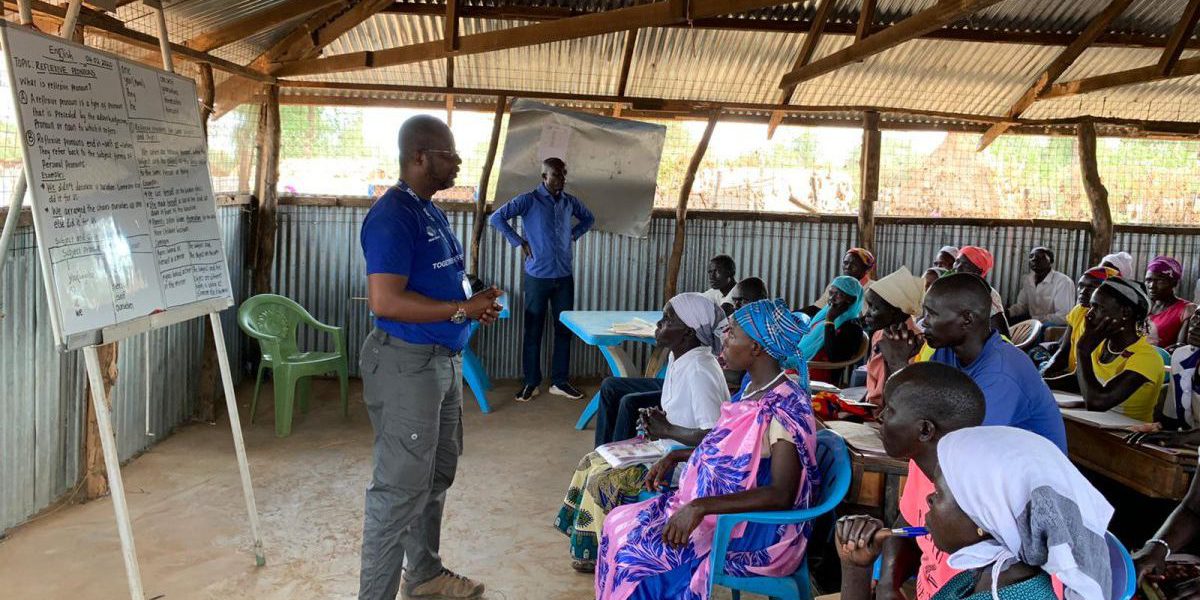 André Atsu is the Regional Director for JRS Eastern Africa, and has been working with JRS for more than 15 years. André first joined JRS in South Sudan, where he eventually became country director. In 2010, he became the human resources officer in the JRS Eastern Africa regional office and served in this role until 2017 when he was appointed JRS country director in Burundi.
Describe your life and what was happening when you first become involved
.
I first joined JRS in 2005. At that time, I had just finished my degree in Social Ministry in Nairobi. I was volunteering here and there with the youth, and I ended up applying for a position in South Sudan, where I worked in a project called Nimule.. When i started, I was working with the youth in the Parish and at the same time I was the Project administrator.  
A few months later I became the Project Director for the Education and Pastoral Project, working with internally displaced people (IDPs) and with those repatriating from Uganda.  
Where are you in your life today
?
Professionally, I am currently the Regional Director for JRS Eastern Africa after having worked in South Sudan for 5 and half years, the Regional Office (Kenya, Uganda, South Sudan, Sudan and Ethiopia)for 7 years, and in Burundi for just over 2 years.  
Personally, I have grown in the last 15 years personally and professionally. Working with refugees, with disadvantaged people, has helped me to see the world differently and to see that the most important thing is not to have, to have, to have, but to be at the disposal of people. You get more satisfaction being with and doing with people. This is the core of my personal journey.  
What difference did JRS make in your life?
The difference working with JRS has been to see that the most important thing is not to think of or do big things: by doing what needs to be done, and doing it well and with dedication, you make a positive impact on people and in people's lives.  
For me, working for JRS, I have come to realize that the most important is to do what we are called to do as individuals and as an organization in a transparent, respectful, and accountable way. I joined JRS for the cause of being with people; that implies that I have the responsibility to do the task I have been assigned to do in the best of my capacity and to the fullest of our ability. Simply put, I am called and tasked to make a positive difference in what I do and in the life of people.
JRS talks about walking with people. We serve and accompany them on their journey. What does accompaniment mean to you?
In a figurative way, we will say it means to walk with someone in their journey. At JRS we walk with people we serve in various ways. For me, that is the most central part of our mission: being with people. This means to be there, to listen to the person, to understand their frustrations, their concerns, and to be able to address these concerns. For me this is what accompaniment means. And to make sure we do this in the most respectful way possible.  
I like to compare it to the story of the Emmaus Disciples: on the road to Emmaus, Jesus was walking with two disciples. They did not recognize him. He was talking to them, listening to them… when they finally reached where they were going, Jesus tried to continue his journey. The disciples asked him to stay with them, and he shared supper with them. That is the moment when they recognized him and realized that on their journey together,  something was speaking to their heart. They felt the joyful.. This is the perfect image of what accompaniment means: to walk with them, listen to them, and make them feel fulfilled. By doing this, they feel their dignity has been restored.  
In practical terms accompaniment means to identify the needs of the people and fulfill all those needs in the best way we can, so they realize they are also human beings. 
Read more testimonies of our partners and companions here.