40 years of accompaniment: Amaya Valcarcel
09 December 2021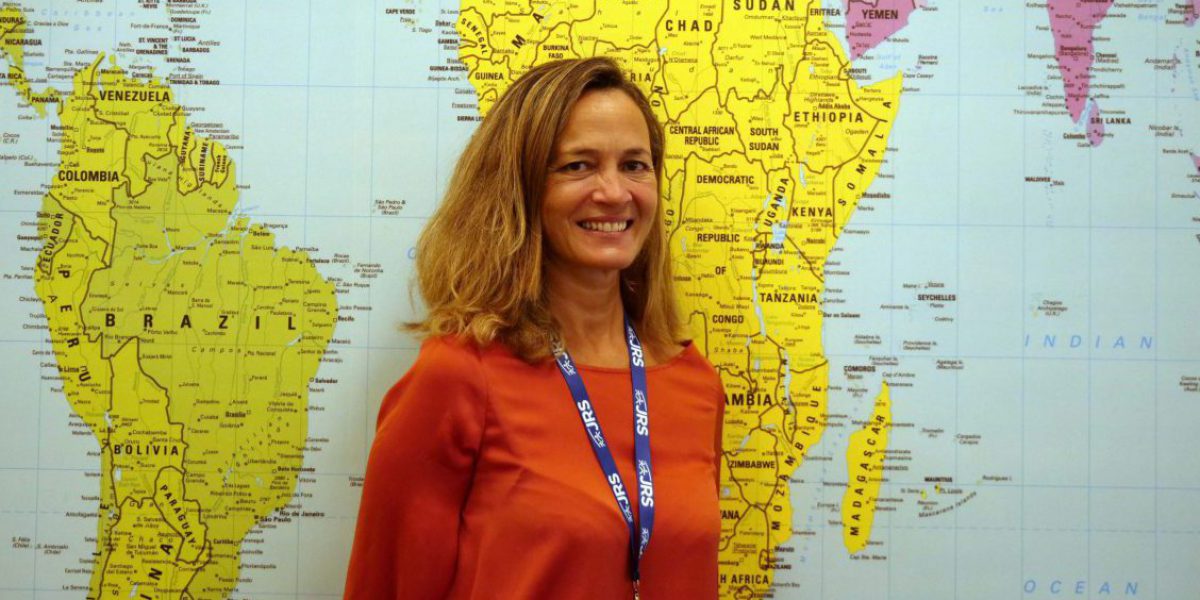 Amaya Valcarcel originally joined the Jesuit Refugee Service in 1998 as Policy Coordinator, focusing her work on the Great Lakes region of Africa and South Asia, with regular missions to Rwanda, Burundi, and Sri Lanka. After working with young landmine survivors in Cambodia and serving as Secretary General of the Spanish Commission for Refugees (CEAR), she moved to Rome, Italy, in 2009, when she took on her current role as International Advocacy Officer at the JRS International Office.
Describe your life and what was happening when you first became involved with JRS.
In 1997, while in a camp in Kakuma, Kenya, I met sister Mary Helen, who was working with JRS, running a chicken farm in the camp. I was working with UNHCR as a legal officer, after finishing my law degree in my home country of Spain at Comillas University. I loved the way JRS engaged refugees. They were not "clients" or "individuals of concern" but partners, active participants and equals. I decided to leave UNHCR to look for a job with JRS in Kakuma and I was offered a position in the international office in Rome. Mark Raper SJ, who at that time was the International Director, accompanied me to the airport after the interview. This simple gesture also confirmed that JRS was the organization I wanted to work for. I joined JRS in early 1998.
Where are you in your life today?
After so many years, I am still working with JRS, as an advocacy officer. In between, I had the privilege to spend some years working with JRS Cambodia and the local Church in the diocese of Battambang, in the northwest part of the country.
Advocacy is part of our threefold mission, and although it is not easy, we work together with churches, academics, governments, journalists, striving to channel the voices of those we serve. In discussions with refugees we listen to their needs as well as their aspirations, but this requires attentiveness and close relationships, and so the mission of JRS becomes a circle, and is very meaningful. I now have the privilege to collaborate very closely with the Migrants and Refugees Section which Pope Francis set up in 2017.
What difference did JRS make in your life?
Refugees have made and continue to make an immense difference in my life. They teach me courage and freedom from fear. JRS has many treasures, the most beautiful one is friendship, of refugees, of staff. I have many friends from all over the world whom I love and admire, including many people I met in Cambodia. During my work there, Cambodians had repatriated, and the country was rebuilding from the ashes. My current work of advocacy is inspired by what I learnt from the refugees and those whom I lived with in Cambodia.
I would have not been the same without the JRS experience.
What does accompaniment mean to you?
I often feel powerless in the face of structural injustice, as well as the lack of political will to understand refugees. But then I think of one face, one voice. One of the images I keep from Kakuma was from a Sudanese friend called Christine, who spent much of her morning time in silence in one of the churches of the camp. I remember praying with her in silence. The situation at that time in her country was one of a terrible violence. We could not do much about that. But we could share meals, conversations and spiritual growth. This was my first experience of mutual accompaniment. Surely, I felt accompanied by Christine. This is an aspect which will not appear in any humanitarian standard, but which is key for refugees.
Antony, another friend who sadly passed away, was a refugee from Kenya. He used to say: "Is it enough to offer us refugees a place to sleep and a dinner? It is likewise important to listen to us and share our aspirations. Faith plays an important role for displaced persons as we seek answers to the many questions that we have regarding the pain and suffering that we have gone through. For most of us, our faith in God is what keeps us going, in the midst of the many challenges that we face where our faith is constantly tested. These acts of love and compassion are what I believe all refugees deserve".