Mexico: JRS on the migrant caravans
14 December 2018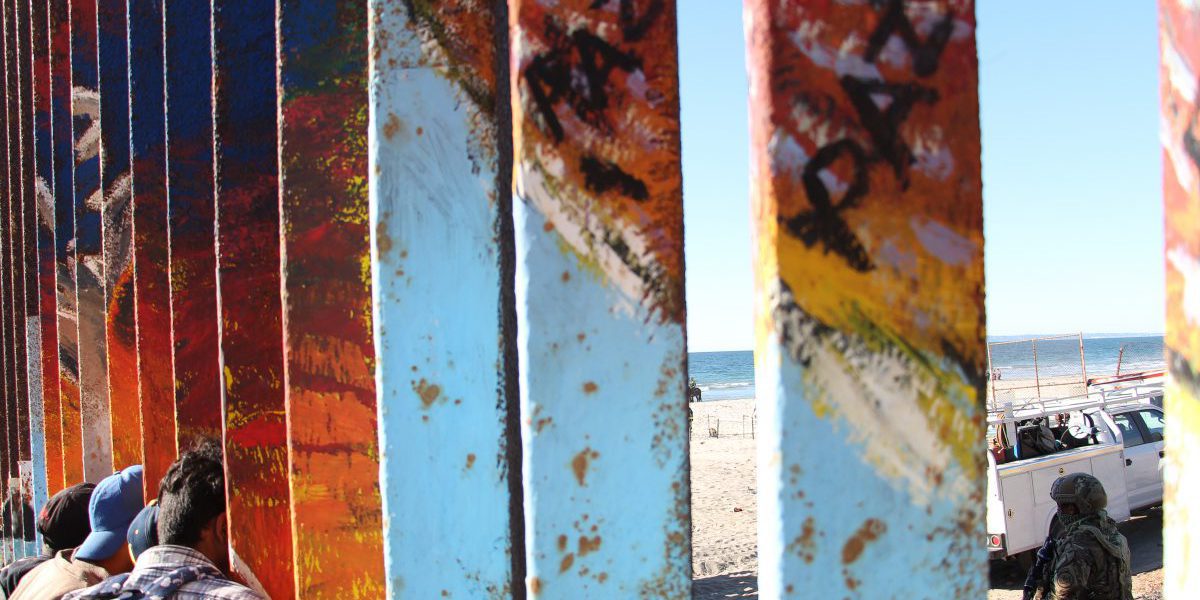 Tijuana – An increasing number of migrants travelling north in large groups, or caravans, from Central America has been the focus of political and media attention recently in the United States. These individuals are fleeing violence and poverty, and seeking protection and opportunity. They have to pass through Mexico on their way to the US and are primarily residents of the Northern Triangle countries of Central America, including El Salvador, Honduras, and Guatemala. These countries constitute the world's most dangerous region outside of a war zone.
Group migration is happening around the world.
Many are reporting the migrant situation in Mexico and the United States as unprecedented, but there are vulnerable individuals travelling thousands of kilometres to escape violence and corruption on both sides of the globe. The large number of migrants from Latin America reflects the violence, political instability, and extreme poverty of this region. In south Asia, ethnic minorities such as the Rohingya of Myanmar are openly discriminated against and even killed by government supported groups. In 2017 there was a large-scale exodus of Rohingya from Myanmar, and close to a million now live in the world's largest refugee camp, in Cox's Bazar in Bangladesh. In Europe, migrants primarily from the Middle East and Northern Africa also embark on dangerous journeys across the Mediterranean in pursuit of the safety and opportunity that their homes lack. These already vulnerable individuals are often exploited by traffickers along the routes, and experience physical abuse and sexual violence.
"It wasn't until I started speaking with people along the US-Mexico border that I began to appreciate how similar the abuses that migrants face in Mexico are to those in Libya." Eric Reidy, IRIN Journalist
The other common feature of migration in Central America and the Mediterranean is the heavy-handed and extreme political response. Migrants make up a very small part of the population, but there have been drastic efforts to restrict the movement of people, without addressing the humanitarian needs that force people to flee their homes. Efforts to restrict migration often result in an increase in deaths, as individuals resort to travelling by irregular routes in remote and dangerous territories.
The Jesuit Refugee Service (JRS) sat down with Fr Conrado Zepeda Miramontes SJ, the analysis coordinator for the Jesuit Service for Migrants (SJM) and the Jesuit Refugee Service (JRS) Mexico to get his insight on the current migrant situation.
Why are they leaving?
Migrants and refugees are forced to abandon their homes due to violence in their communities, lack of medical treatment, political corruption, limited economic opportunity, and intimidation from organised crime groups. Migrants speak of criminal groups and corrupt officials exploiting their access to personal data, demanding money, and threatening families.
Why do they travel in large groups?
The routes from Central America to Mexico are controlled by criminal gangs and drug cartels. These organised crime groups rob, assault, and kidnap migrants to demand ransom from already desperate families. In both North America and the Mediterranean, sexual violence is so prevalent that women often take contraceptives before beginning their journeys. The families, women, and children in the caravans band together for safety; they are less susceptible to exploitation and violence when they are in large groups.
One way to protect everyone from being vulnerable is to walk together. When we walk together we are protected
Fr Conrado Zepeda Miramontes SJ, JRS Mexico
What is being done?
Humanitarian and Catholic organisations have been the primary responders. There has been tremendous cooperation between civil organisations, religious groups, and some government officials. The Catholic church in Mexico has a uniquely important role when protecting the rights of migrants. The church's public stand regarding the protection of migrants has been instrumental in securing public support of the them. When the migrants first arrived, the dioceses of Tapachula and San Cristobal de las Casas welcomed them, opening churches and pastoral centres to provide shelter, and coordinating with other organisations to provide monetary aid, volunteer support, and emergency assistance.
The media doesn't sell the constant, daily vulnerability of migrants. The caravans are creating an important moment for Central and North America
Fr Conrado Zepeda SJ, JRS Mexico
Find more information about the migrant caravan and JRS's work in the region here.