JRS awarded for its work and commitment to the rights of refugees by IUEM
18 May 2020
Dear friends, Inspired by Father Pedro Arrupe, the presentation of these awards encourages us to always open our eyes, ears and hands to those who suffer from hunger, injustice and violence, aggravated by the COVID-19 pandemic.
Pope Francis
The Jesuit Refugee Service (JRS) has been recognised with the Father Arrupe Award for Human Rights by the Instituto de Estudios sobre Migraciones (IUEM) – known for its research around migration, asylum, and migratory movement – of the Universidad Pontificia de Comillas. The Award, now in its second edition, recognises the merit of individuals and institutions that stand out for their work defending and promoting human rights in the field of migration and forced displacement. It is considered one of the most important awards in such field.
Along with JRS, journalist Jesus Blasco de Avellaneda was also recognised under the category of Journalism and Migration. Avellaneda was acknowledged for his professionalism and commitment to defending the fundamental rights of journalism, including freedom of expression and of the press, and upholding the dignity of the most vulnerable.
"This award bears the name of Father Arrupe, who founded the Jesuit Refugee Service 40 years ago with an enormous vision, is a recognition of everyone who throughout these four decades served, accompanied, and advocated the cause of refugees and other forcibly displaced people, helping to make their faces visible and their voices heard," says Thomas H. Smolich SJ, JRS International Director.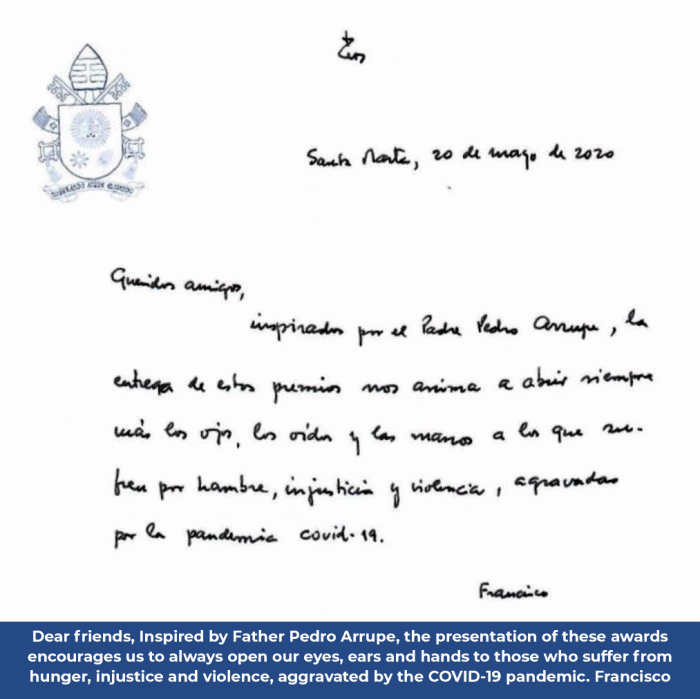 Pedro Arrupe SJ was the 28th Superior General of the Society of Jesus, serving from 1965 – 1983. He was a pioneer in denouncing the mistreatment of the forcibly displaced and refugees. In 1980, Fr Arrupe founded the Jesuit Refugee Service with the mission to accompany, serve, and advocate the cause of refugees and other forcibly displaced people, that they may heal, learn, and determine their own future. Today, JRS is present in over 57 countries around the world, with programmes spanning from education to livelihood trainings, emergency assistance, psychosocial support, and reconciliation.
The award ceremony will be held via webinar on 20 May at 6:00 pm (Madrid time), with Cardinal Michael Czerny SJ, head of the Migrants and Refugees Section of the Vatican, presenting the awards.
You can tune into the event here.