José Ignacio Eguizábal appointed as JRS Deputy International Director 
04 April 2023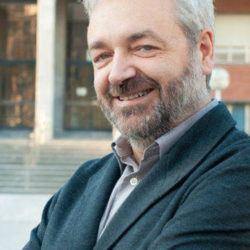 The Jesuit Refugee Service (JRS) is happy to announce that its Administrative Council has appointed José Ignacio "Nacho" Eguizábal as the new JRS Deputy International Director, effective 1 September 2023. He succeeds Br Michael Schöpf SJ, who will take on the role of International Director on the same date.   
Mr Eguizábal has years of experience working with the Jesuits and in the field of forced migration. He joined Alboan, a Jesuit NGO in the Basque country, in 2003 serving as Director for eight years. It was then that he first met JRS, acting as a contact person in Spain and as part of the board of the JRS Europe Regional Office. For the last eight years, Mr Eguizábal has served as Managing Director of Egibide, a diocesan/Jesuit High and Vocational School in Vitoria-Gasteiz, Spain. From 2016 to 2019, Mr Eguizábal was part of the JRS Administrative Council.  
Born in Pamplona, Spain Mr Eguizábal is married, a father of two, and is a member of the Christian Life Community. He is an engineer by profession and worked in technical and management positions in the automotive industry for twelve years.   
A second Deputy International Director is expected to be nominated soon.   
JRS welcomes new Deputy International Director, José Ignacio Eguizábal