Dying to Live: Stories from Refugees on the Road to Freedom
14 February 2020
The Jesuit Refugee Service (JRS) is pleased to announce the release today of Dying to Live: Stories on the Road to Freedom, a book by Danielle Vella, director of International Reconciliation Programs for JRS.
Co-published with Rowman and Littlefield, Vella's book features powerful narratives in which people forced to flee their homes tell their own stories, in their own words. Giving voice to those who are often voiceless and vilified, Dying to Live recounts the journeys, the losses, the hopes of refugees from Syria, Afghanistan, Eritrea, and South Sudan who are now living in Europe, Uganda, Lebanon and the United States.
Some escaped forced conscription by armed combatants in their countries. Others fled when war exploded on their doorsteps. Still others sought refuge when threats by ISIS or the Taliban placed their lives in danger. Then there were those who refused to be complicit in wrongdoing and stood for what they believed to be the right – enduring exile and flight from their homelands as the price of conscience.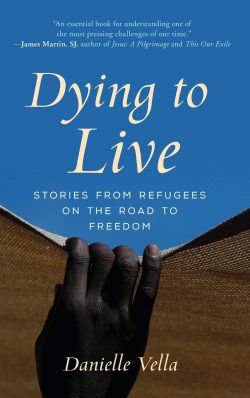 The refugees who share their stories with Vella and readers of her book bear witness to searing ordeals faced on their journeys, including hostility in their new homes, where they had hoped to find safety. Yet, the horrors and dangerous journeys they survive never rob these refugees of hope.
You'll find in Vella's book a moving tribute to the extraordinary resilience of these refugees and the hospitality and kindness shown to them, sometimes in the most unlikely places.
About the Author
Danielle Vella is the director of the International Reconciliation Program for the Jesuit Refugee Service (JRS). Also a journalist, she has served as publication coordinator for JRS, editor and writer for the African Jesuit AIDS Network, reporter for Vatican Radio, and contributor to The Tablet and Times of Malta. Based in Malta, Danielle travels internationally for JRS.
Book tour
Bringing light to the refugee experience is critical to dispelling fear and creating a culture of welcome for all refugees and migrants. If you are in the United States, join the author Danielle Vella during her book tour. Visit the JRS USA's website for dates and details.